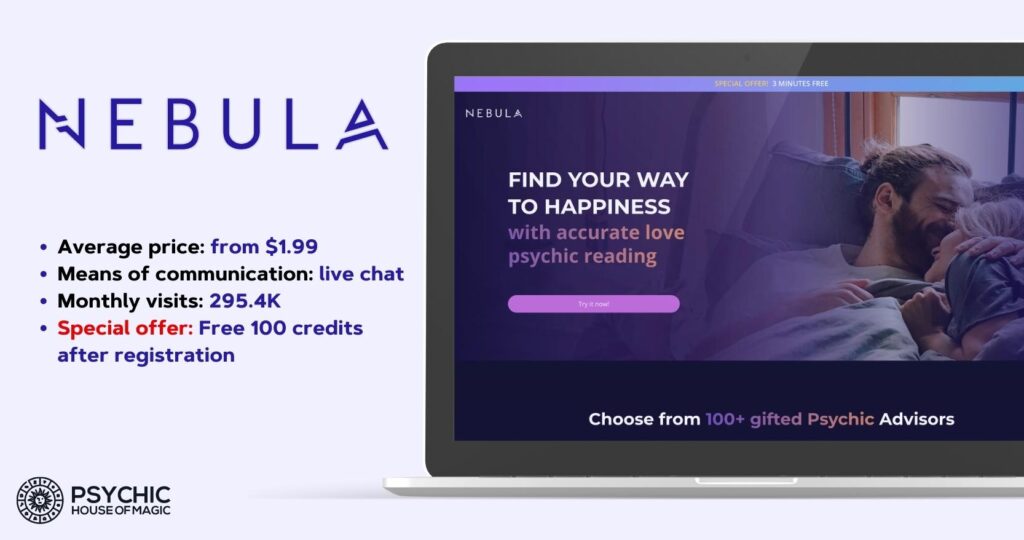 Despite being less popular than similar platforms in the industry, Nebula is still worth your attention. The site offers multiple features that will give you guidance on living your life and ways to solve your problems. It has a credit-based system and numerous services to choose from, both niche and more common ones. You can get personal daily horoscopes for free to understand what the day holds for you. 
Also, Nebula reviews mention that the site offers to leverage its beauty and health calendars, insights about biorhythms, and information about your focus of the day. These small yet effective bonuses can significantly improve your life because you'd know what to get ready for even before starting the day. Isn't this a way to make your life easier and more enjoyable? We believe it is!
Besides, AsknNebula psychic readings offer daily summaries and live chats with the experts. You can look through specialists' profiles to see what services they offer, read other customers' reviews, and check their rates. You aren't obliged to select a psychic in the first minutes after entering the platform, so you can take your time until you find the right expert. 
Nebula's main features
The features offered by Nebula prove that the site is focused on providing top experiences to its customers. Namely, it stands out thanks to these peculiarities:
Free credits for new users. Nebula offers 100 free credits after registration to each user to give them an understanding of what the site has to offer.

Several pricing options. There are three primary options when it comes to Nebula's services. These are a basic package for $19.99, a yearly promotional subscription for $49.99 with a 3-day trial, and a one-time payment lifetime subscription for $119.99.

Both free and paid services. You can subscribe for personal horoscopes and leverage the information you get from them while combining it with the insights told by psychics during sessions.

Online chat. You can pick an Nebula psychic who matches your requirement and communicate about your issues right in a live chat. It's fast, it's confidential, and it gives you all the answers you need.

Matches. With this feature, you can answer a few questions about your current mood and the type of problem you're facing, and the system will suggest Nebula psychics who will give you the most accurate reading.
Types of readings on Nebula
Our Nebula review should mention that this site is perfect for those wanting to try out different psychic readings without spending a fortune. There, you can find the following options:
Tarot readings. If you have questions about your feelings, aren't sure about where your relationship is heading, or what steps you should take, that's when Nebula psychic can help.
Nebula—legit or scam?
There aren't many Nebula scam cases because the site pays attention to its users' experience. Yet, you will need to put effort into researching the specialists' profiles because not all of them are skilled enough to provide the readings you're looking for. However, our Nebula review should point out that the site is worth checking out before you jump to conclusions, so make sure to give it a glance!
Pros and Cons
Pros
Over 100 psychics specializing in different psychic services
Attractive special offers for first-time customers
A matching system for finding the best psychic for your request
The same rate for all psychics regardless of experience
Free horoscopes available
You can use not just the site, but also the mobile apps
Detailed psychic profiles with all the necessary information
Cons
The choice of communication tools is limited to online chat
Psychic availability depends on the time of day
Refund is available but not guaranteed
You cannot see detailed psychic reviews, just the rating
Top 3 Nebula advisors
At any given time, there are between 30 and 60 advisors available for a consultation on Nebula. And while you can go through a trial and error approach to find the best psychic on Nebula, you can always start with the top-rated psychics. Thanks to the system of Nebula psychic reviews and the ability of clients to rate their sessions, each advisor has an average rating and therefore a place in the overall rating. These are the top-tier Nebula psychics you can talk to.
AstroAlexis
This expert has a 4.9/5 rating and specializes in life readings, tarot reading, and numerology. She has helped thousands of clients achieve clarity in different life matters. She also deals with all kinds of romance and relationship questions and has years of experience in the field.
Prometheus
With a 4.9/5 rating, Prometheus is definitely one of the top-rated Nebula psychics. His specialty is love and relationship readings, but he also uses a variety of tools and techniques for answering customer questions. These include numerology, tarot reading, and runes.
Epiphany
This Nebula psychic has a rating of 4.7 out of 5 and mainly specializes in different aspects of everyday life: relationships, careers, romance, etc. She mainly uses tarot cards and runes as her psychic tools but also knows numerology and astrology.
Pricing and discounts
Nebula has a very convenient payment system: all psychics charge the same amount of credits per minute — 30 credits, to be precise. No matter how much experience or how many stars they have, the price remains the same. You can also opt for a subscription that costs $9.99 per week or $19.99 per month.
The site also has a generous special offer: as a new member, you can get 100 credits to spend on readings. This will get you exactly 3 minutes, which will allow you to decide whether you want to continue a paid session with the Nebula psychic.
Customer experience
Nebula hasn't been around for too long, there are plenty of online reviews users made after spending time on the site. You can find more than one Nebula review on popular platforms or in individual blogs of independent reviewers.
What users like 👍
Here are the three things users particularly like about Nebula:
Plenty of Nebula psychics available online at all times, meaning you won't struggle with finding a person to talk to, whether it's 11 p.m. or 5 a.m.
Clear rates — with each psychic charging the same amount of money per minute, users can easily calculate how much a session is going to cost depending on the length.
Convenient system of filters that allows users to find the right psychic based on the rating, number of consultations done, range of services, and other factors.
What users don't like 👎
While most users are pretty happy with the services they're getting from Nebula, there are some things they would like to change:
The variety of communication options being limited to online chat is not the best situation for people who prefer a more personable approach via phone or video.
A typical Nebula psychic review only contains the number of stars the user awarded to the expert and doesn't contain any other information about the session.
There is no opportunity for psychics to upload their own content, such as blog posts or videos, to help the users get to know them better.
How to use Nebula website?
To start your customer journey on Nebula, you first need to create an account. You can do it by filling out a short registration form or logging into the site using your Google account.
If you are ready to start a session right away, you can go directly to the filters to pick your psychic. You can choose psychics based on their preferred tools, life topics, rating, number of consultations done, and other parameters.
Once you know which psychic you want to talk to, simply click the "Start chat" button, and you will be taken straight to your chat room. Here you can confidentially explain your request to the psychic and expect a reply within 2 minutes.
Nebula mobile app
Conclusion
Nebula is a pretty new psychic reading service, but it has everything it takes to become your favorite. It has an attractive, clear interface, a selection of essential features, and a payment system that eliminates any risk of confusion. However, the biggest selling point of Nebula is its selection of psychics, and that's what keeps customers coming back.
FAQ
What is Nebula?
Nebula is a psychic reading website where you can talk to professional, experienced psychics via live chat and get answers to your life questions, find out what the future holds, and get the information and advice you need to overcome possible challenges.
Is Nebula secure & confidential?
Yes, absolutely. When you work with a new psychic, they won't be able to access any of your past readings, even though you can access them at any time. The psychic will only know the information you choose to share with them. Moreover, all payment information on the site is encrypted for better security.
Does Nebula have a refund policy?
Nebula has a satisfaction guarantee. If you are not happy with the service you received, you should immediately contact customer support, who will look for the best solution in your situation. This can include a refund, free reading minutes, or another solution.
How to find my trusted advisor on Nebula?
There are two ways to find your trusted Nebula psychic. The first one is to carefully read every profile to make sure that the psychic's experience, types of services, and other qualifications match your expectations. If you don't have the time to do that, you can answer a few questions to get matched with the most suitable expert.