Home » Zodiac signs »

Gemini Woman
Ahoy, and welcome to the multi-dimensional universe of the Gemini woman! In the course of this exhaustive discourse, we shall examine the entrancing persona of the Gemini female, her singular idiosyncrasies, adeptness in communication, and inborn flexibility. Our journey into her mysterious lunar sign reveals a deeper glimpse into her emotional cosmos, impacting her relationships and choices. Prepare to unlock the captivating realm of the Gemini woman and all the unique elements that make her, well, her.
Gemini Woman
| | |
| --- | --- |
| Symbol | Twins ♊ |
| Ruling Planet | Mercury |
| Gemstone | Agate |
| Ruling House | 3rd House |
| Element | Air 💨 |
| Birthstone | Pearl |
| Color | Yellow, Light Green |
| Numbers | 5, 7 |
| Metal | Mercury |
Gemini Woman – Traits and Characteristics
The Gemini woman is an enticing fusion of intelligence, humor, and adaptability, manifesting as a delightful and captivating companion. Her dual persona, represented by the Twins, blesses her with the distinctive ability to perceive situations from multiple viewpoints, often elevating her into the role of an exceptional problem solver. She possesses an always-curious mind, thriving on intellectual stimulation, seamlessly absorbing fresh information, and participating in spirited discussions. Equipped with impressive communication skills, she forms connections with ease, becoming the center of any social event. However, her fluctuating emotions may occasionally induce unpredictability, leaving others in a state of uncertainty. Nevertheless, she's a swift learner, flexible in her tactics, and open to new experiences, making her an intriguing and thrilling individual to be with.
Intellectually insatiable: With an ever-active mind that thirsts for knowledge and novel experiences, the Gemini woman's cognition is an unending carousel of thoughts and insights.
Communicative charmer: Her commendable communication skills and witty allure pull people towards her, making her a natural conversationalist.
Jack-of-all-trades: Owing to her dual nature, she seamlessly adapts to varying situations and can smoothly navigate different social circles.
Adaptable: The Gemini woman's receptiveness allows her to accept change and swiftly adapt to new circumstances.
Sociable butterfly: Her outgoing and friendly persona make her the soul of any gathering, establishing connections with people effortlessly.
Unpredictable emotions: Her dual nature influences and can lead to unpredictable emotional swings, confounding others at times.
Quick learner: Blessed with a keen intellect, she comprehends new concepts rapidly, making her a natural problem solver across situations.
Strengths & Weaknesses of Gemini woman
The Gemini woman is blessed with a wealth of strengths that shape her into a riveting and dynamic entity. Her sharp intellect and quest for knowledge make her a master of communication, capable of effortlessly adapting to different scenarios. Her versatility enables her to form connections with ease, and she shines in social settings as the party's life. However, her strengths come accompanied by certain weaknesses. Her fluctuating emotions can give rise to unpredictability, and her restless nature can make it difficult for her to commit to long-term plans or relationships. Despite these weaknesses, her ability to learn swiftly and welcome change transforms her into a resilient and adaptable force.
Strengths
Intellectually Curious

Exceptional Communicator

Versatility

Socially Engaging

Quick Learner

Adaptable

Lively and Energetic
Weaknesses
Unpredictable Emotions

Restless Nature

Difficulty with Commitment

Indecisive at Times

Can be Superficial

Tendency to Overthink

Prone to Being Impulsive
Gemini Woman – Life & Lifestyle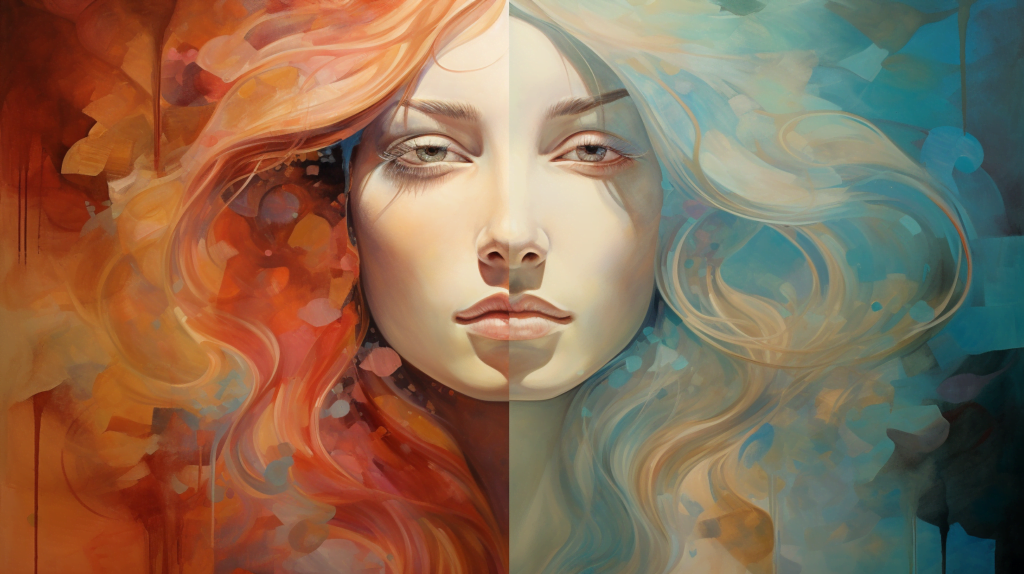 The Gemini woman's life and lifestyle are hallmarked by a consistent sense of exploration and curiosity. Driven by an insatiable desire for knowledge, she welcomes new experiences and loves to learn about various subjects. Her social nature makes her a vibrant participant in social circles, and she befriends people from all walks of life with ease. Her ability to shift between different activities and interests portrays her as a versatile individual. She excels in communication and can flourish in careers involving networking, public speaking, or writing. However, her ever-changing interests might result in a lack of focus and a tendency to scatter her energies. Therefore, balancing her multiple pursuits is key to her overall satisfaction and success.
Gemini Woman in Relationships, Love & Sex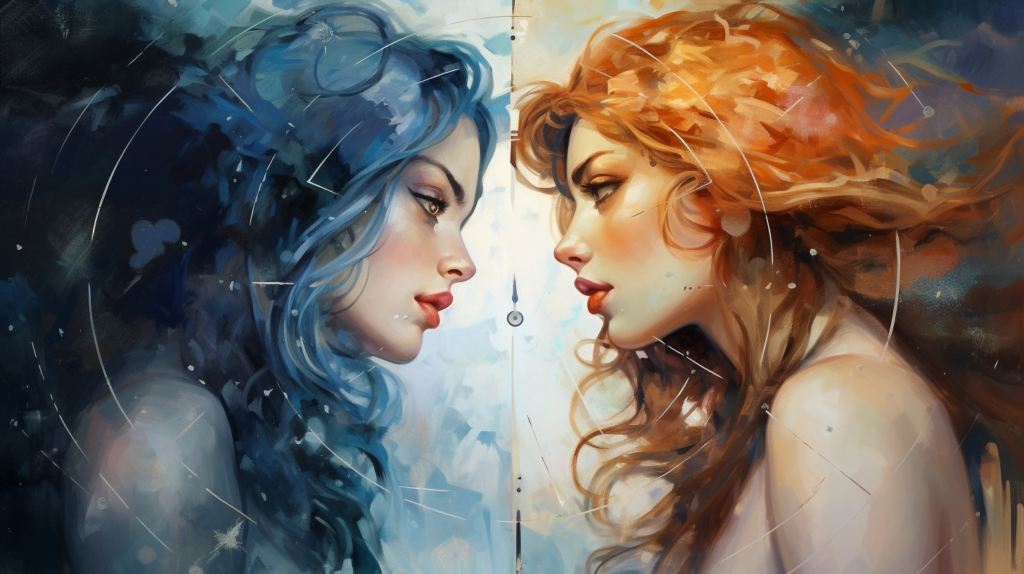 In relationships, the Gemini woman's playful and communicative nature shines through. She craves intellectual stimulation and seeks partners who can engage in deep conversations and share her love for learning. Her naturally social disposition allows her to effortlessly connect with people, making her a charming and engaging partner. However, her tendency to be easily bored may lead to restlessness in long-term commitments. Emotionally, she may appear detached at times, but that is due to her need for mental stimulation and personal freedom. In love and sex, she values variety and enjoys exploring different aspects of intimacy. Her adventurous spirit and open-mindedness make her a passionate lover.
| The most compatible with: | Less compatible with: |
| --- | --- |
| Libra ♎ | Virgo ♍ |
| Aquarius ♒️ | Pisces ♓️ |
| Leo ♌️ | Scorpio ♏️ |
Gemini woman Friendship Compatibility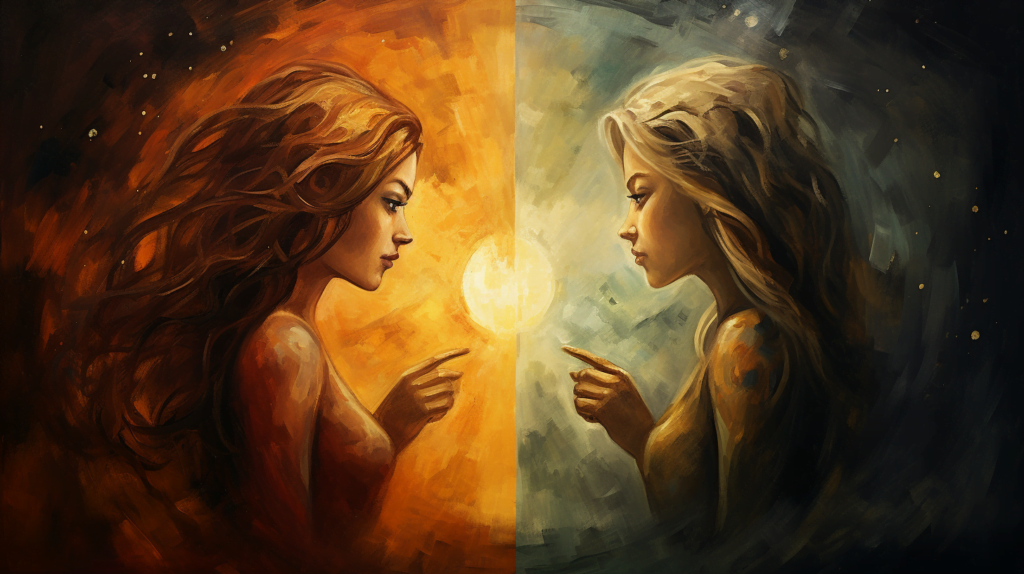 The Gemini woman is a social butterfly, and her natural charm and wit make her a sought-after friend. She possesses a magnetic personality that attracts a diverse group of people into her circle. As a friend, she is fun-loving, communicative, and always up for new adventures. Her versatility allows her to adapt to different social settings and connect with individuals from all backgrounds. She enjoys engaging in lively discussions and sharing her knowledge with friends, making her an excellent conversationalist. However, her ever-changing interests and need for excitement may lead to occasional inconsistency in maintaining deep, long-term friendships. To strengthen her friendships, she needs to make an effort to be more attentive and considerate of her friends' needs. Overall, her vibrant and dynamic personality makes her a cherished and enjoyable friend to have.
| The most compatible with: | Less compatible with: |
| --- | --- |
| Aries ♈️ | Capricorn ♑ |
| Sagittarius ♐️ | Virgo ♍ |
| Aquarius ♒️ | Pisces ♓️ |
Gemini woman in Career, Money & Success Traits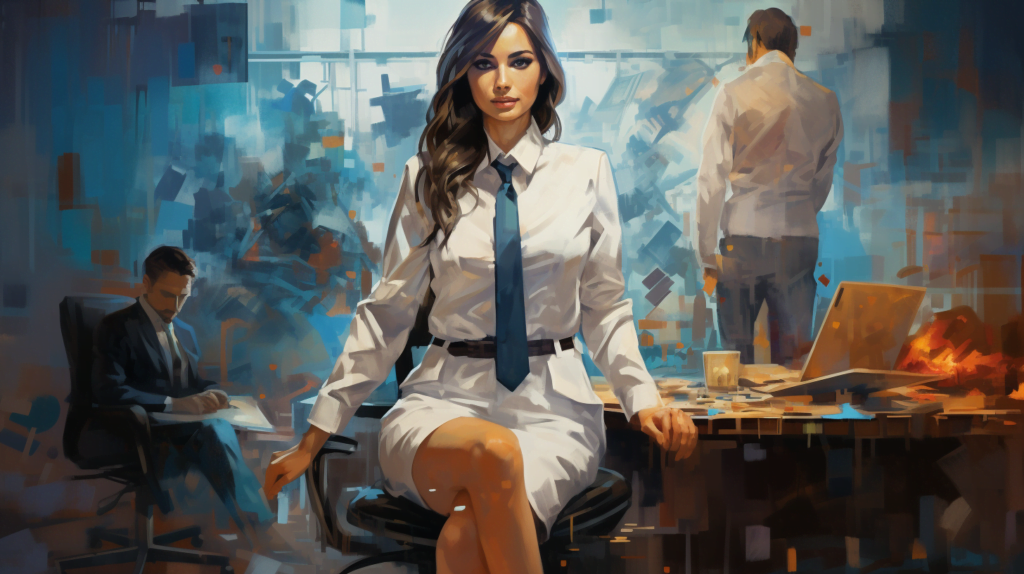 There's something incredibly riveting about the Gemini woman's career trajectory. She's a jack of all trades, with an intellectual prowess and adaptability that draws her towards dynamic, ever-changing professional realms. She possesses an enviable aptitude for communication, enabling her to shine in roles like sales, public speaking, or journalism. However, a flip side to her fluid nature is a streak of indecisiveness, necessitating laser-focus on her long-term objectives. Her financial sense swings between extremes, from a spendthrift to the wise investor. But given her innate wit and adaptability, the Gemini woman navigates her professional and monetary journey with a certain panache.
Gemini woman Health and Wellbeing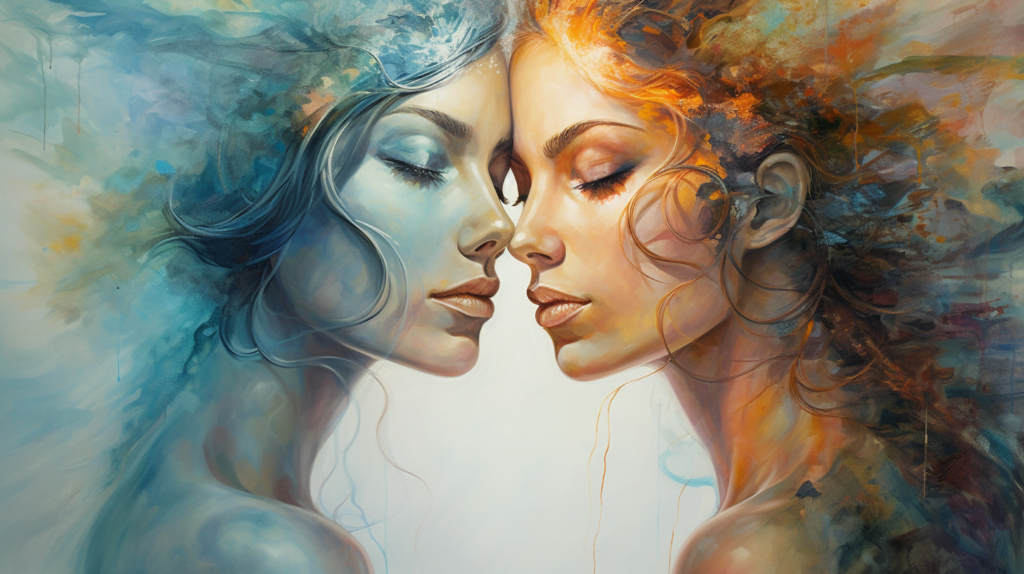 The Gemini woman's health narrative is dominated by vitality and a relentless love for life. This mental energy translates into a physically active lifestyle, fostering agility and fitness. Still, the pace of her life could sometimes threaten to overflow into restlessness, mental fatigue even. For her, finding a balance between exertion and relaxation is paramount. Embracing practices like meditation or mindfulness might work wonders in anchoring her. While respiratory health demands her attention, a nutritious diet and ample sleep remain non-negotiable for overall wellbeing. Given her flexibility, she seamlessly integrates wellness practices into her routine for a healthy, effervescent existence.
Gemini woman Child & Parent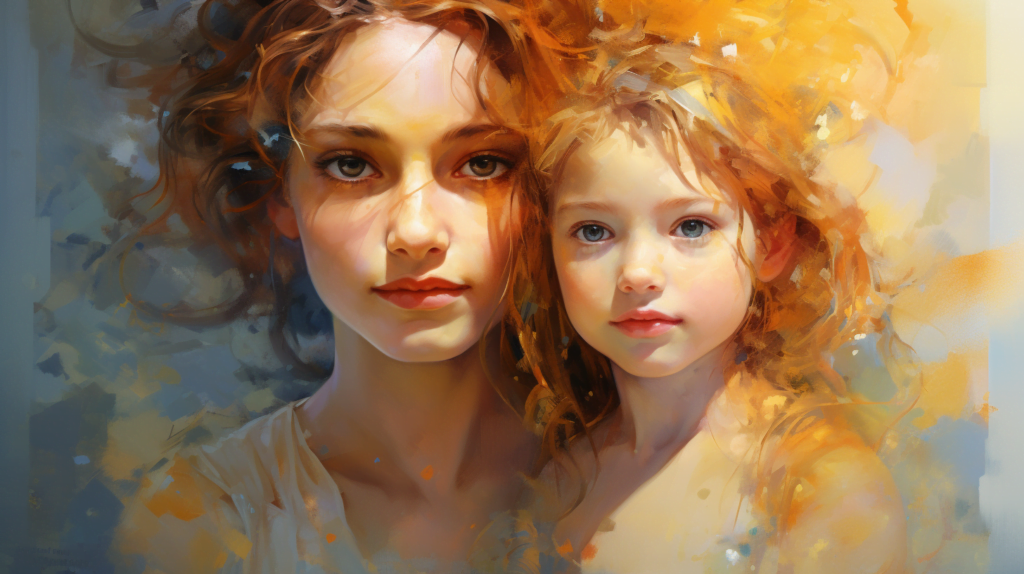 In her maternal avatar, the Gemini woman is a playful, involved parent, sprinkling her children's lives with curiosity and zest. She becomes the catalyst for their intellectual growth, using everything from academic pursuits to insightful chats as learning opportunities. Despite the need for consistency in parenting, her fluctuating nature might induce a level of unpredictability. Therefore, maintaining emotional stability and open communication for her little ones becomes crucial. As a daughter, she remains tightly knotted to her roots, her inquisitiveness sparking lively discussions with her parents.
Gemini woman Moon Sign
The Moon sign casts a significant influence on the Gemini woman's emotional tapestry. Should her Moon sign find a companion in an air sign such as Libra or Aquarius, her emotional undercurrent remains harmonious, prioritizing intellect and communication in relationships. However, a fiery Moon sign like Aries or Leo might kindle her passion and quest for life's adventures. A water Moon sign could plunge her into emotional depths, sometimes causing her to grapple with openly expressing her feelings. Decoding her Moon sign can enable the Gemini woman to better steer her emotional currents and cultivate deeper self-awareness.
7 Facts about Gemini woman
Gemini woman is incredibly adaptable, possessing the knack to effortlessly switch between varied roles and situations.
Her intellectual curiosity is impressive, always eager to delve into new concepts and engage in stimulating discussions.
With her extroverted, affable personality, she is a natural social magnet, connecting with new people and social gatherings with ease.
Symbolized by the Twins, she often demonstrates a dual personality, exhibiting a range of traits and moods, making her somewhat elusive.
She is a master communicator, effectively articulating her thoughts and emotions, making her a compelling speaker and storyteller.
Her energetic and restless nature keeps her on her toes, always seeking new experiences and adventures.
Her youthful charm and playful demeanor lend her a sense of childlike wonder, making her approach life with curiosity and lightheartedness.
Video about Gemini Woman
FAQ
Are Gemini women compatible with other air signs?
Gemini women typically find common ground with other air signs like Libra and Aquarius, as they share intellectual, communicative, and social traits. But remember, compatibility is not solely dependent on the sun sign. Considering the entire birth chart, including the moon and rising signs, offers a more comprehensive compatibility view.
Do Gemini women easily forgive?
Gemini women are known for their forgiving nature, but it also depends on the situation and the depth of the hurt. They are understanding and often willing to give people second chances. However, their dual nature means they can also be quick to change their emotions, so forgiveness may not always be immediate. It's essential to communicate openly and honestly with a Gemini woman to resolve conflicts and repair relationships.
What are some ideal career paths for Gemini women?
Gemini women thrive in careers that stimulate their intellectual curiosity and communication skills. They are natural fits in roles that demand adaptability and variety, such as writers, journalists, broadcasters, and public speakers.
How can I handle conflicts with a Gemini woman?
When dealing with conflicts with a Gemini woman, it's crucial to approach the situation with patience and open communication. Avoid confrontations and instead, engage in calm discussions. Gemini women appreciate logical reasoning and a balanced perspective. Be prepared to listen to their point of view and be open to compromise. Avoid being overly emotional or confrontational, as it may push them further away. Providing them with space to process their thoughts can also be beneficial.
How can a Gemini woman balance her sign?
Gemini women can balance their sign's dual nature through grounding techniques and mindfulness practices. Regular physical exercise, spending time in nature, maintaining a routine, and solitude can provide them the much-needed stability and peace.

Dan Allender is a psychologist and astrology and psychics expert.
He is the founder of The Allender Center and The Seattle School of Theology & Psychology, which prepared mental health professionals and helped hundreds of lives to heal their traumas.
Now Dan is working as a spiritual specialist at PsychicHouseOfMagic.