Home » Zodiac signs »

Aquarius Woman
In the celestial tapestry of the zodiac, the Aquarius woman is a constellation that defies easy categorization. Represented by the Water Bearer, she is a blend of intellect and eccentricity, a unique confluence that dances to its own cosmic rhythm. Her character is a rich weave, embracing both radical innovation and time-honored wisdom, linking the world of tangible reality with the profound mysteriousness of the abstract. Join us on this explorative journey as we delve into the Aquarius woman's traits, from her inherent characteristics to the subtle influences of her moon sign.
Aquarius woman
| | |
| --- | --- |
| Symbol | Water Bearer ♒️ |
| Ruling Planet | Uranus |
| Gemstone | Amethyst |
| Ruling House | 11th House |
| Element | Air 💨 |
| Birthstone | Garnet |
| Color | Electric Blue |
| Numbers | 1, 7 |
| Metal | Uranium |
Aquarius Woman – Traits and Characteristics
The Aquarius Woman – a curious blend of contradiction and clarity, mystique and transparency. Her traits manifest in unique ways, creating a character unlike any other in the zodiac. Allow me, Dan Allander, to lead you through this intriguing landscape.
Independent: The Aquarius woman values her autonomy above all else. She's a free spirit, unwilling to be confined by traditional roles or societal expectations. Her independence isn't just an idea; it's her life philosophy.
Innovative: Fueled by a robust imagination and a desire to push boundaries, the Aquarius woman is always seeking new and novel approaches. Whether in her personal life or career, innovation is the spark that drives her.
Humanitarian: With a heart that cares deeply for others, the Aquarius woman is often drawn to causes and activism. Her humanitarian streak is more than a fleeting interest; it's a calling that often defines her life's purpose.
Unpredictable: Consistency is not her strong suit, and predictability is a foreign concept. The Aquarius woman thrives on surprise and embraces the unexpected with open arms. This unpredictability adds a thrilling edge to her personality.
Intellectual: A thinker and a dreamer, the Aquarius woman engages with the world through her intellect. Her mind is her playground, where ideas are born, nurtured, and sent out to change the world.
Detached: While brimming with ideas and passions, the Aquarius woman can sometimes seem distant or aloof. This detachment isn't coldness but a way for her to engage with the world on her terms.
Friendly: An Aquarius woman may seem reserved at first, but her friendly nature soon shines through. She values friendships and social connections, often bringing people together in harmonious ways.
Each trait is a thread in the vibrant tapestry that makes up the Aquarius woman. Together, they form a complex pattern, revealing a person of depth and dynamism, forever dancing to her own cosmic tune.
Strengths & Weaknesses of Aquarius woman
The Aquarius woman is a fascinating dichotomy of strengths and weaknesses that form the essence of her character. Her strong intellectual drive often leads to remarkable innovation, while her humanitarian instincts push her to make a difference in the world. However, her unpredictability can sometimes leave those around her bewildered, and her tendency to be emotionally detached might come off as indifference. Through these aspects, she paints an intricate portrait of her persona, never one-dimensional but ever-evolving.
Strengths
Intellectual & Innovative

Humanitarian & Deeply Compassionate

Independent & Unconstrained

Friendly & Socially Connective
Weaknesses
Unpredictable & Sometimes Erratic

Detached & Emotionally Unavailable

Can be Perceived as Aloof

May Struggle with Intimate Connections
Aquarius Woman Life & Lifestyle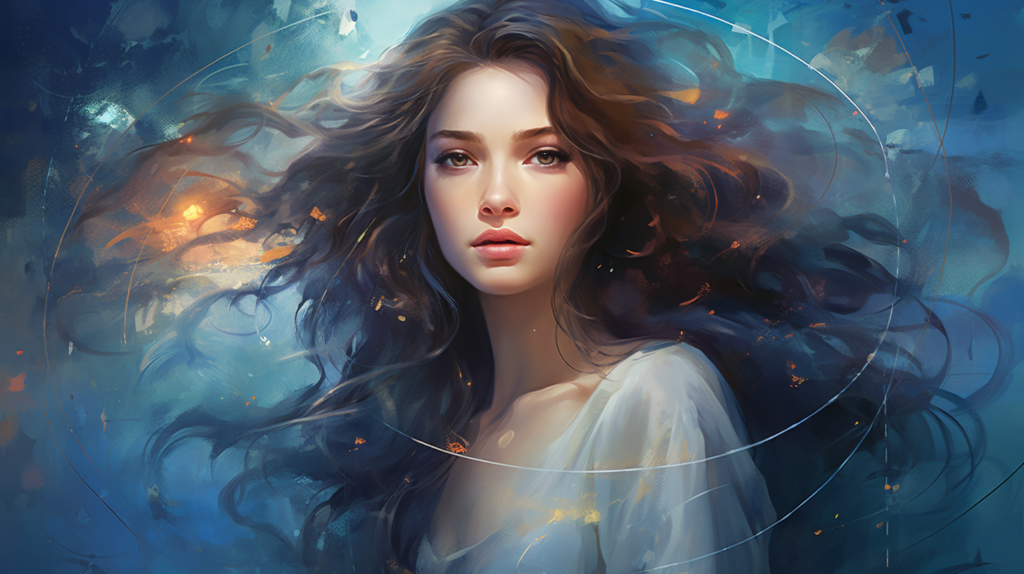 The Aquarius woman is a seeker of truth and a lover of innovation. Bound not by tradition but by curiosity, she thrives in environments where she can explore, question, and break the mold. Often seen as a trendsetter, her unique style and offbeat interests set her apart. She values her independence and has a constant thirst for knowledge, seeking to understand both the world and herself. While she may sometimes appear distant, she's driven by a genuine desire to help others and make a meaningful impact. Her life is a constant adventure filled with exploration, creativity, and progressive thinking.
Aquarius Woman in Relationships, Love & Sex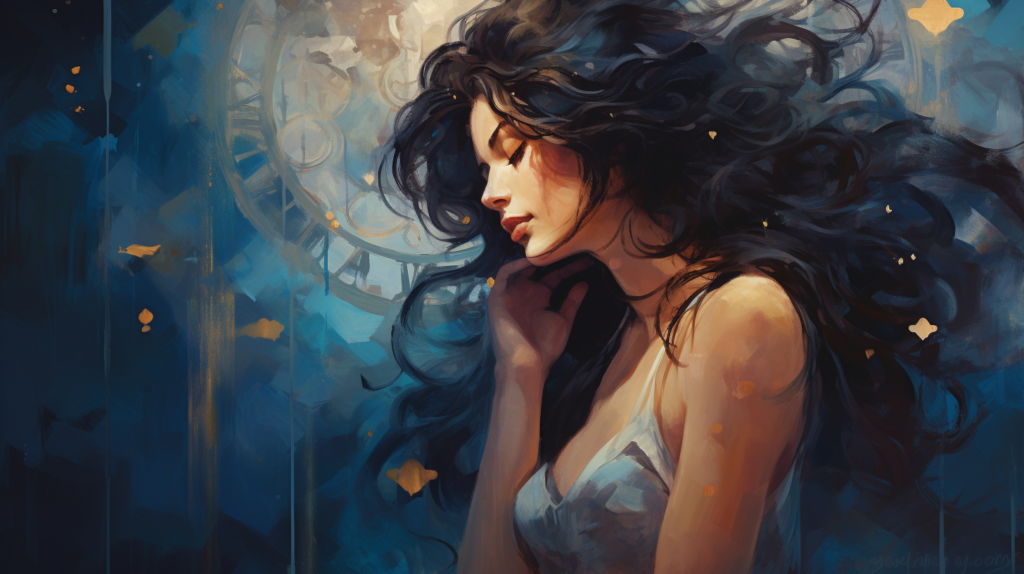 In relationships, the Aquarius woman is a stimulating partner, filled with exciting ideas and a love for intellectual stimulation. Her desire for genuine connections means she's often looking for a partner who can match her mental energy. She values independence in love, wanting a relationship that enhances her life rather than defines it. Open-minded and often unconventional, she brings an element of surprise and curiosity into her love life.
| The most compatible with: | Less compatible with: |
| --- | --- |
| Aries ♈ | Taurus ♉ |
| Gemini ♊ | Scorpio ♏ |
| Libra ♎ | Virgo ♍ |
Aquarius Woman Friendship Compatibility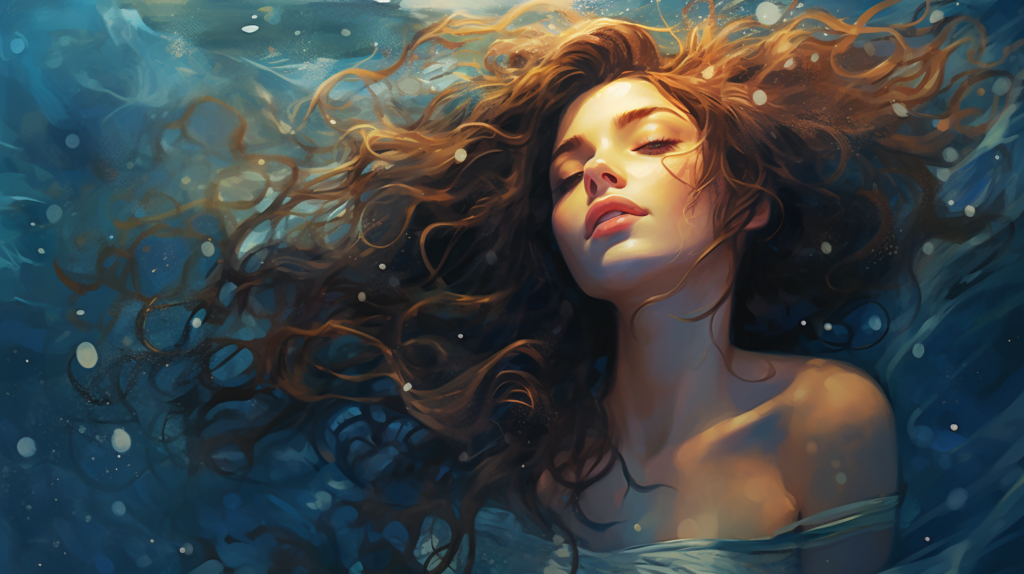 Aquarius women build friendships that are rich in intellectual companionship and shared interests. They attract friends who are as open-minded and curious as they are. Though sometimes seen as aloof, their friendships are built on respect and shared values rather than emotional intensity. They offer support and encouragement to those who are on a similar path of exploration and growth.
| The most compatible with: | Less compatible with: |
| --- | --- |
| Gemini ♊ | Cancer ♋ |
| Libra ♎ | Capricorn ♑ |
| Sagittarius ♐ | Pisces ♓ |
Aquarius Woman in Career, Money & Success Traits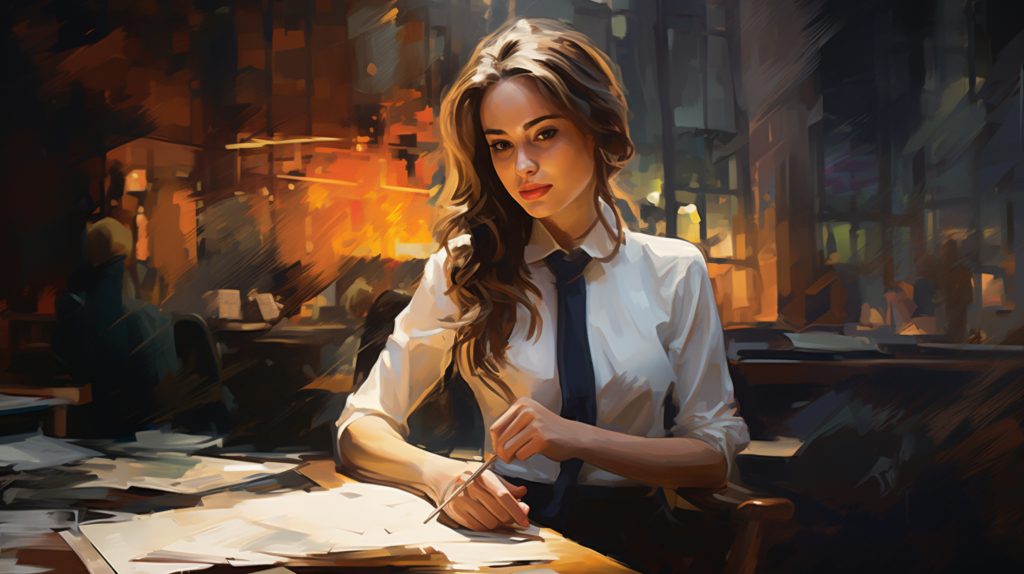 Aquarius women shine in careers that allow them to innovate and express their individuality. They often excel in fields such as technology, science, social activism, and the arts. Their ability to see beyond the conventional and think outside the box often leads them to success in entrepreneurial ventures. Financially, they may have a non-traditional approach to money, valuing experiences and contributions to society over accumulating wealth. Success to an Aquarius woman means making a difference and being true to her unique path, rather than following the well-trodden road to material gains.
Aquarius Woman Health and Wellbeing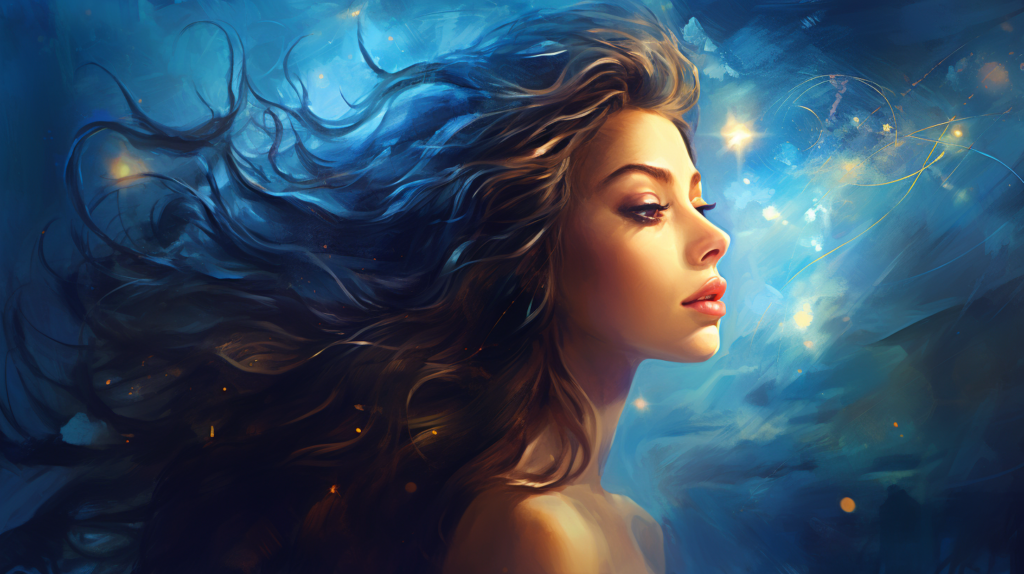 For the Aquarius woman, health is an exploration, a journey into the body's own capacity for healing and wholeness. Open to unconventional methods, she often explores alternative therapies and holistic approaches to wellness. Her mind plays a vital role in her well-being, as she believes that a healthy outlook promotes a healthy body. This unique perspective often leads her to fresh and innovative ways to care for herself. While she has a resilient constitution, she must watch for neglecting her physical needs in the pursuit of intellectual and creative endeavors. Striking a balance between her energetic curiosity and necessary rest can lead her to optimal health.
Aquarius Woman Child & Parent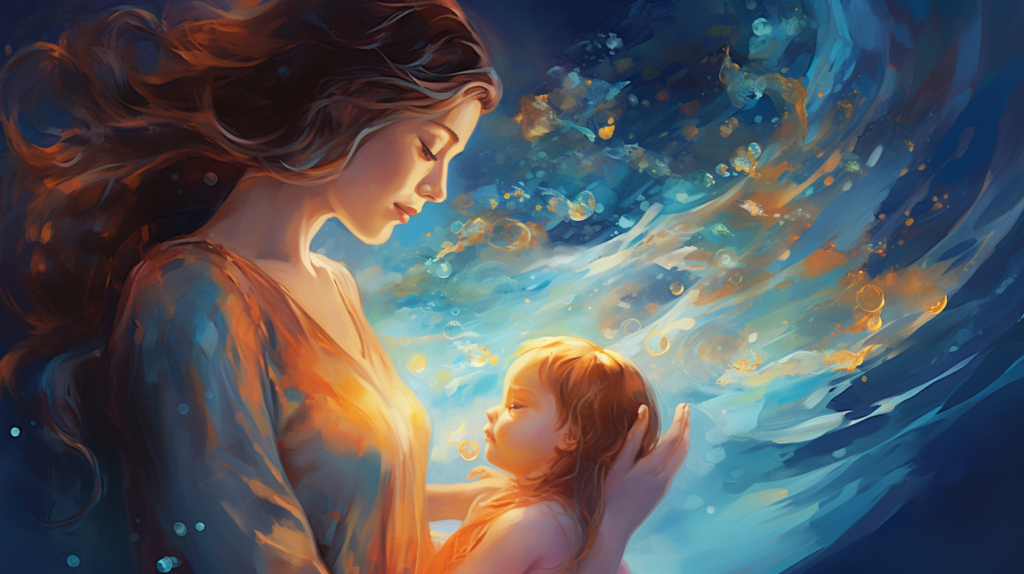 The Aquarius woman's approach to parenting is as unconventional as her approach to life. Her children will find in her a friend, a mentor, and a constant source of inspiration. She encourages independence, curiosity, and the courage to be different. The child of an Aquarius woman will be encouraged to think, question, and explore without boundaries. As a child, the Aquarius girl may have been noticeably different, her unique perspective on life already forming. Both as a parent and as a child, the Aquarius female's life is marked by an unorthodox and stimulating approach to family relationships, valuing mental connection and shared values over mere biological ties.
Aquarius woman Moon Sign
In the realm of the celestial, the Moon Sign reveals hidden depths, and for the Aquarius Moon woman, these depths teem with innovation, idealism, and a relentless pursuit of the future. A Moon in Aquarius grants her an intellectual curiosity and emotional detachment that can both fascinate and baffle those around her. Her feelings are often processed through the lens of logic, making her responses unexpected and sometimes seen as cold. However, this masks a profound empathy for the collective human experience and a desire to make the world a better place. Relationships can be a landscape she navigates differently, valuing mental connection and shared ideals. Her dreams are often filled with visions of what could be, rather than what is, a future-oriented perspective that fuels her unique path through life. Her emotional world is a complex blend of intellect and intuition, as challenging as it is rewarding.
7 Facts about Aquarius woman
Visionary Idealist: The Aquarius woman is often ahead of her time, embracing future-oriented perspectives that weave innovation and idealism into a compelling vision. Her thoughts often dwell on how to improve the collective experience of humanity.
Fiercely Independent: Independence is more than a preference; it's a necessity for the Aquarius woman. She carves her path, guided by her principles, and resists being boxed into conventional roles or expectations.
Complex Emotions: Though sometimes perceived as emotionally detached, the Aquarius woman possesses deep and intricate emotions. She often processes feelings through logic, an approach that can confound those around her.
Humanitarian Heart: Her empathy extends beyond individual relationships, encompassing a broader concern for human welfare. She's often drawn to causes that promote social justice and equality.
Unconventional Relationships: In relationships, she seeks intellectual connection and shared values. Traditional romance might take a backseat to a more cerebral and friendship-driven approach.
Creative Mind: Creativity flows freely through the Aquarius woman's mind, manifesting in artistic endeavors, problem-solving, or her unique way of perceiving the world. She isn't afraid to think outside the box.
Mystique and Paradox: The Aquarius woman is an enigma wrapped in a paradox. Her blend of emotional detachment and profound empathy, coupled with her futuristic outlook and individualism, creates a mystique that can be as baffling as it is fascinating. Her complexities are not a puzzle to be solved but a tapestry to be appreciated.
Video about Aquarius Woman 
FAQ
Are Aquarius women compatible with other air signs?
In the celestial dance, Aquarius women often find harmony with fellow air signs, Gemini and Libra. These connections are stirred by a shared craving for intellectual stimulation and a longing to explore the ever-widening horizons of thought. The intellectual rapport forms the foundation, allowing for a lively and engaging relationship that resonates with their mutual quest for knowledge and freedom.
Do Aquarius women easily forgive?
Forgiveness, for an Aquarius woman, is often a complex equation. While she may seem detached or even aloof, her emotions run deep and can leave an indelible mark. If trust is breached, forgiveness is possible, but not without sincere effort and genuine contrition. Her intellect demands reason, and her heart requires sincerity.
What are some ideal career paths for Aquarius women?
A boundless thinker and a visionary, the Aquarius woman thrives in fields that allow her creativity to flourish and her idealism to shine. From technology and innovation to social work and activism, she's drawn to careers that fuse her passion for progress with her altruistic nature. Her inventive mind might also find satisfaction in artistic pursuits or scientific exploration.
How can I handle conflicts with an Aquarius woman?
Conflicts with an Aquarius woman may require a delicate touch. Approaching her with reason and respecting her individuality are essential. Her analytical nature values logical discourse, so be prepared to discuss rather than confront. Transparency and sincerity can bridge many a rift, for her mind seeks understanding even in disagreement.
How can an Aquarius woman balance her sign?
The Aquarius woman, in her pursuit of intellectual heights and social ideals, may find balance by grounding herself in the present and nurturing her personal relationships. Cultivating self-awareness and embracing the complexity of her emotions can lend depth to her interactions and foster a more harmonious connection with herself and others. The key lies in weaving her visionary ideas with the tangible reality, creating a synthesis that celebrates both her individuality and her place within the collective human experience.