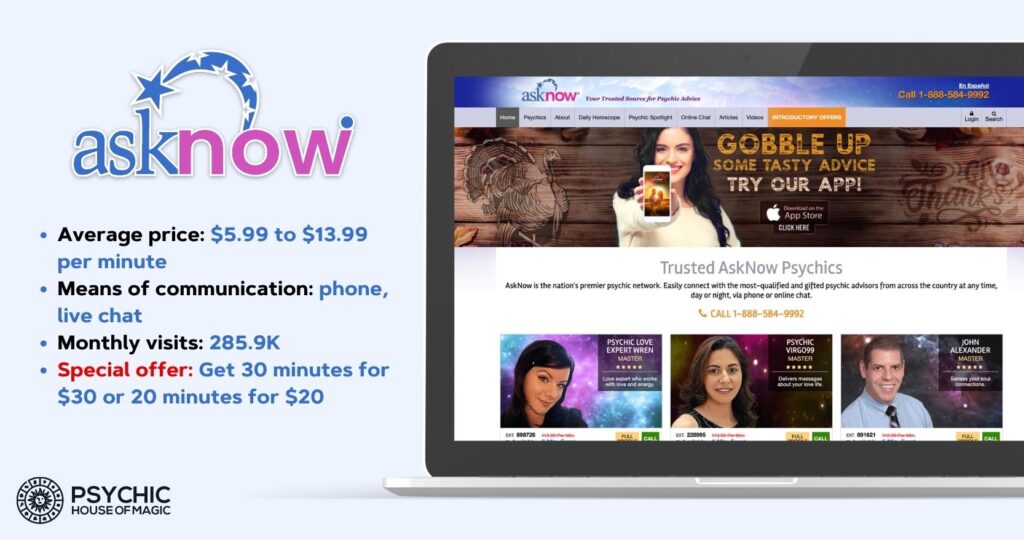 AskNow entered the industry in 2005 and has been expanding its client database since then. It offers people various services aimed at helping them address any questions related to their past, present, and future. In addition, it provides readings in several categories, from spiritual guides and NLP to aura and chakra readings. 
The site has a pay-per-minute structure and offers attractive discounts to new members. For example, you can purchase an introductory package for $30 and get 30 Minutes or get 20 Minutes for $20. Also, you receive 5 free additional Elite/Master minutes. 
Our AskNow review should mention that the lowest price per minute starts at $5.99/minute, while the highest is $13.99/minute. Also, the costs depend on the specialists' rates. Services of a top-rated psychic have the price of $5.99–$9.99, of an elite $10–$11.99, and master experts charge $12–$13.99 per hour. 
AskNow's main features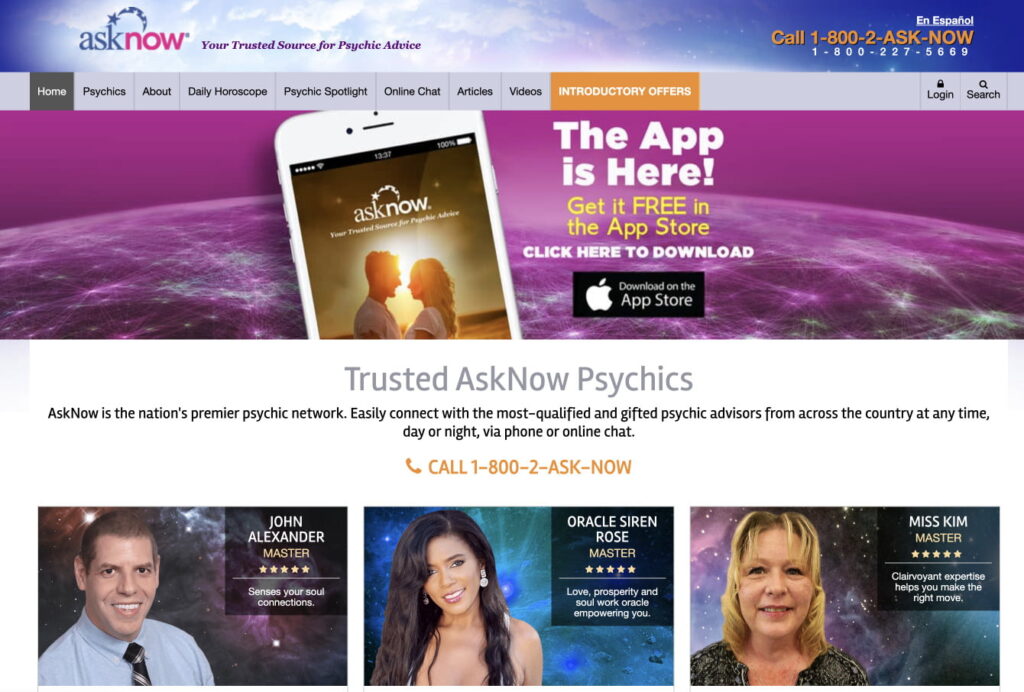 The Ask Now psychic network is impressive because it has over a hundred talented psychics that will help you address the concerns that have been bothering you for a while. What's more, the site has an abundance of features that make it stand out among other similar platforms. These options will help you gain clarity on your life and get answers to various questions. Some of the top-rated services at Ask Now com are the following:
Types of Readings on AskNow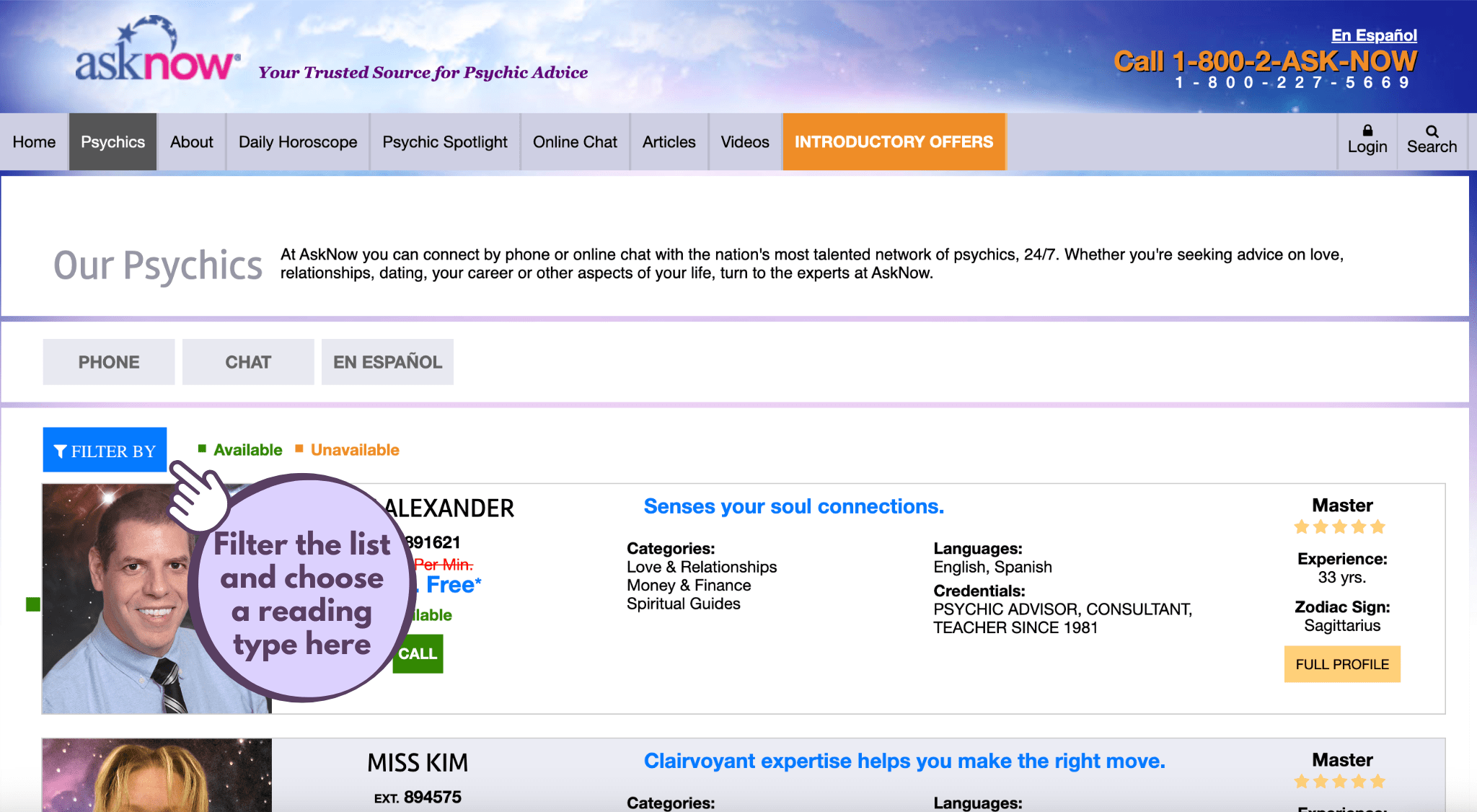 AskNow psychics are keen on various types of readings, so you can find almost any kind of reading on the site. Whether it's something common, such as Tarot cards, or a unique technique, like clairvoyance, the site has advisors specializing in such services. These are some of the types of readings on AskNow you can leverage:
Love and relationship readings. Struggling with finding a partner or don't understand what holds you back from taking your relationship to another level?
Money readings. Sometimes, financial issues make people feel less inspired or lower their desire to strive for more. That's why an expert in this area can help you define the issues and address the problems hindering your financial success.
Career and goals. Many AskNow suggest that the site has experienced psychics specializing in assisting people in understanding where their careers are heading and how to change the direction.
Tarot. AskNow has a number of experts who use Tarot to give users precise readings or answer specific questions.
Spiritual guides. AskNow psychic readings can also be related to communicating with spirit guides to aid people in reaching their greatest potential.
Numerology. Although AskNow doesn't have many specialists specializing in this field, you can still find an expert to help you get answers via this divinatory art form.
Past lives. Our AskNow psychics review can prove that the site has about 14 specialists skilled in past life readings.
Dream analysis. Often, our subconscious is trying to tell us something important via dreams, but we don't always understand what exactly we should pay attention to. That's where a psychic can help you. The professional will decipher your dreams to figure out what you need to hear and the things you need to be aware of.
Astrology. Stars have a lot of answers for us, and their alignment at the moment of your birth can tell a lot about your strengths and weaknesses. A professional reader at AskNow will help you tap into your personality and hidden talents to explain how you can fully realize your potential.
Energy readings. During the energy reading, an advisor will scan your chakras to see the concerns you have and how you can deal with them. They will also ask for insights from your angels and ancestors to increase the reading's accuracy.
Angel cards. These cards help to connect to your angel beings to receive guidance and inspiration. The readings will help you find the directions you need to follow to make your dreams come true.
Clairvoyance. If you want to know more about your future or understand the events that happened in the past, a clairvoyant will help you get the insights you're looking for. You can find talented clairvoyants at AskNow and easily schedule sessions with them.
Pros and cons
Pros
a wide range of psychics to choose from
various types of readings to address any questions
communicate via chat or phone
advisors keen on several niches, from money to love
a lot of psychics have over 10 years of experience
several search categories that make choosing the psychic easier
free daily horoscope allows getting the most out of the readings
top-rated, elite, and master advisors
Cons
price can be as high as $13.99 per minute
you can't chat with the psychic via video
you get free minutes only if you didn't like the session with a psychic
AskNow—legit or scam?
When choosing an AskNow psychic, you don't have to worry about the site's trustworthiness because it offers 5 free minutes during which you can communicate with an advisor. Also, the platform has a 100% satisfaction guarantee and has been in the industry for over 15 years. Although this time doesn't seem enough to answer all your questions, you can still feel whether the reader is telling you the things that are related to your case. Also, the site has a 24/7 support team that can help you address any questions. 
You have to pay attention to the fine print because it mentions that you can get free minutes only after you purchase an introductory package, which might be misleading. So, AskNow psychic readings are worth trying out, but you need to be alert. 
If you have any problems, you can simply reach the support team by dialing the Ask Now customer service number (888) 988-6664
How to find the right psychic for you
Whether a website has 10, 100, or 200 psychics available online, the choice of a psychic is one of the most important choices you'll make in your spiritual journey. It goes without saying that the presence of, say, AskNow customer service is also essential to your user experience. 
However, the psychic is the one who will deliver your reading. Therefore, it's the one choice you make that determines the success of the whole journey. To make things easier for you, we've rounded up five tips on how to find a psychic who will meet your needs.
Check the specialty

If you already know what kind of psychic reading service you have in mind, make sure to find a psychic who lists that service as one of their specialties.

Check the experience

There is no minimum experience threshold for AskNow psychics, and talented but inexperienced psychics can be just as good. However, the more experienced a psychic is, the more promising they are and the more they can reveal.

Look for reviews

AskNow psychic reviews can be found both on the website itself in each psychic's personal profile, and on independent websites you can find on the internet. Psychic reviews can tell you exactly what to expect from a session.

Take advantage of the special offer

On AskNow, you can get your first reading at $1 per minute plus free 5 minutes with another psychic. Make sure to use this offer, as a trial session will help you decide whether you want to talk to the same psychic again.

Listen to your gut feeling

Perhaps, nothing is more important for a good psychic reading experience than when you have a true connection with the psychic advisor and your vibes just match, so your intuition is very important here.
To get you started, here are the top-rated and most popular psychics AskNow has to offer.
Top 5 AskNow Advisors
Since it's hard to define the best psychic on AskNow, we've selected 5 top-rated experts you can consider when looking for a specialist who can help you get guidance. These advisors have considerable experience in the industry and will give you the answers that will make your life brighter. 
Michael Ryan

This advisor deserves a special place in our AskNow psychic review because he's known for helping his clients gain valuable insights and fresh perspectives on their lives. He's been in the industry for over 25 years and always provides precise and valuable information that helps people address their concerns. His readings have a 99.9% accuracy, and clients refer to him as a truly gifted master. Michael will help you answer the questions about your past, explain the situations in your present, and tell you what the future holds for you.   
Psychic Tree

Love, relationships, and career are just some of the spheres this psychic is keen on. She has precise and exacting readings and connects with the spirit guides using a bunch of techniques, including Guardian Angel magic and Tarot cards. She's always open to hearing what the spirits have to tell and ensures highly emotional experiences for her clients. She's been developing her talent since the age of 7 and has studied various magical spheres that allow her to tap into the clients' energies and deliver the messages they need to hear. 
Medium Sandra Lee

Sandra is a medium who will answer questions about love, money, and relationships with accuracy and focus on the events happening in your life. She's been a clairvoyant reader since 1998 and looks at the present situations and those awaiting you ahead. The advisor also offers to interpret your dreams to understand whether there are some warnings you need to be aware of. 
Psychic Trinity

Being a multi-talented psychic advisor, Trinity has been helping people for over two decades so far. She's keen on using Tarot cards and delivering the messages the clients need to hear to understand the directions they should opt for. She's an inspirational reader who provides picture-perfect clarity and total understanding of the situation she focuses on during the readings. Trinity readily provides solutions to problems regarding love, relationships, money, and health. 
Psychic Guide Selena

Selena aims to provide honest and uncannily accurate readings to unfold all the signs the spirits are sending you. She can help you manifest love and happiness into your life and help you understand what to expect in your personal life. The advisor will guide you through all the steps to building a relationship with someone special and clear the negative thoughts or concerns you might be having. She has the power to steer you in the right direction to help you achieve the future of your dreams.   
Pricing and discounts
When using AskNow psychic hotline, you'll be impressed by the affordable prices and convenient pay-per-minute structure. You won't have to guess how much you have to pay for the session with a psychic because it depends on the advisor's level and can be easily calculated. There are three levels of psychics, depending on their experience, and they charge differently:
Top Rated: $5.99-$9.99
Elite: $10-$11.99
Master: $12-$13.99
You can choose the psychic depending on your needs and budget limits. Also, once you create the profile on AskNow, you can leverage the bonuses. For example, you can get 20 minutes for $20 and 30 minutes for $30, which is much lower compared to the usual prices. Additionally, you get 5 free minutes with elite or master psychics. 
Customer experience 
We checked some review platforms, including TrustPilot and SiteJabber, to see what people have to say about AskNow. We were impressed by the number of positive AskNow reviews because a lot of customers are satisfied with the services the site offers. Of course, there are some aspects that might negatively affect the user experience, but they are minor. Let's take a look at the site's pros and cons!
What users like 👍
There are different communication options based on your preferences
Psychics specialize in different areas, so it's easy to find the topic you need
The readings are accurate, and the delivery style is compassionate
The site is easy to navigate
Customer service helps to address any questions
You can chat with several psychics until you find the one you feel most connected to
What users don't like 👎
The prices are rather high
You need to put effort into finding "your" professional 
Sometimes, you might hear the things you don't want to hear
How to use the AskNow website?
How to Use the AskNow Website?
AskNow is a website available to all online users. Thus, it offers a set of features you definitely need to use when browsing this website.
Read free daily horoscopes, which include not only your prediction for the day but also the info about your zodiac sign's winning color, stone, and element.
Don't miss the blog articles that AskNow's team posts regularly. You can even select the article's category, such as dreams, unexplained phenomena, tarot, etc.
Watch videos about psychic readings to learn how to prepare for your first consultation.
Take benefit of a free question deal that lets you receive the answer from online psychics.
To start enjoying the AskNow psychic reading features, you should create an account first. It doesn't take much time: you need to enter your name, email, birthday, and username only.
Then, go to the catalog of psychics and filter them to receive the list of potential advisors. The search engine allows you to mention preferable reading types, pricing, psychic categories, and availability. Moreover, when you look through the psychics' list, you see that many of them can speak Spanish, and the website itself is available in this language. So, you can use this option if you are a Spanish speaker. Next, when you choose a psychic, schedule an appointment with them by selecting the most suitable time for you or organize a meeting right away if an advisor is free. As a new client, you can order one of two discounted packages: 30 min./$30 or 40 min./$40. In addition, you receive five free minutes with elite advisors. Once you are done with it, pay for the session and enjoy your first psychic reading experience!
AskNow Psychic Video Overview
FAQ
What is AskNow?
AskNow is a top-rated psychic network that helps customers communicate with advisors without spending too much time finding an expert. The site offers various communication tools to choose from and has diverse types of readings that users can leverage. It's known for providing insightful readings at affordable prices. 
Is AskNow secure & confidential?
AskNow puts effort into providing secure services and accurate readings by following strict verification procedures. All the psychics who want to join the site have to prove that they have a knack for providing insightful readings and understand the differences between several reading techniques. Also, it has a 100$ satisfaction guarantee and has been on the market for 15 years so far. 
Does AskNow have a refund policy?
Yes, the site has a refund policy that implies you can get the money back for the call or chat you're not satisfied with. Yet, there might be problems with this, but you can reach out to the site's customer support and get help. 
How to find my trusted advisor on AskNow?
AskNow has a compilation of top-rated readers, so you can choose one of them if you feel like their reading style resonates with you. Also, you can check other profiles until you find the reader whose energy clicks with yours, and communicating with whom will make you feel comfortable.
How do I get free minutes on AskNow?
Free 5 minutes plus the $1 per minute price for the first reading is a special offer that is available to every new customer on AskNow. To take advantage of the special offer, all you need to do is create an account. You can do it the usual way by filling out your profile information online, or use the handy option of creating an account over the phone.
Can AskNow read my horoscope?
Yes, and in more ways than one. If you're impatient and need clarity right now or you simply like freebies, you can check out the AskNow daily horoscope section, where you will find a very detailed horoscope for each star sign that is updated daily. If you don't mind spending a bit of time and money, you can find plenty of astrology advisors who specialize in horoscopes on AskNow.
How can you connect with AskNow advisors?
AskNow offers two primary ways to connect with its psychics. You can write a message to a psychic who is online to start a chat. You can also call the AskNow phone number and use a unique extension number of the psychic of your choice. The latter option is available without creating your account. You can also schedule meetings with the psychics who are offline.
Are there any popular alternatives to AskNow?
Yes, there are. AskNow is a pretty good psychic reading service, but it's not the only one. Some of the psychic reading websites that are the closest ones to AskNow in the variety and quality of services are Keen, Kasamba, and California Psychics. We've compared those four websites earlier in our article.
Conclusion 
In this AskNow.com reviews, we understood that the site has been in the industry for over 15 years for a reason. It combines high-quality services with affordable prices and boasts one of the most extensive expert databases. There, you can choose an expert based on their experience level and leverage any type of reading technique to get the most accurate answers. So, don't hesitate and give AskNow a try because it's worth it!
How AskNow compares to other psychic reading sites
AskNow may be one of the most popular websites in the psychic reading niche, but it's not the only one operating in that domain. Whether you want to have your first-ever psychic reading session or are looking to spice up your experience, here is how AskNow compares to three other popular psychic advisor platforms.
AskNow vs Keen
AskNow and Keen have a similar number of psychics online at any time of the day and a close number of psychic services available. AskNow has a little more free content, including videos, and an option to schedule calls with the psychics. Keen, on the other hand, offers one more communication method — you can describe your issue to the psychic via email and receive a reading via email as well.
| AskNow Prices 💲 | Keen Prices 💲 |
| --- | --- |
| $5.99/minute–$13.99/minute | $1.99–$30 per minute |
| AskNow Services 🔮 | Keen Services 🔮 |
| --- | --- |
| Tarot | Life Path |
| Numerology | Mediumship |
| Astrology | Tarot |
| Past Lives | Astrology |
| Dream Analysis | Dream Interpretation |
| Love & Money & Career | Angel Readings |
| Spiritual Guides | Aura Cleansing |
| AskNow Special offers 🔥 | Keen Special offers 🔥 |
| --- | --- |
| 30 min/$30 and 40 min/$40 intro packages | |
AskNow vs Kasamba
AskNow has fewer psychic reading experts online and fewer services available, but the psychics on AskNow seem to undergo a more rigorous selection process. One of the pros of AskNow over Kasamba is the ability to schedule appointments, which can come in handy when the psychic you're interested in is offline. In general, psychic reading services on Kasamba are slightly more affordable than on AskNow.
| AskNow Prices 💲 | Kasamba Prices 💲 |
| --- | --- |
| $5.99/minute–$13.99/minute | $1.69–$25.49 per minute |
| AskNow Services 🔮 | Kasamba Services 🔮 |
| --- | --- |
| Tarot | Cartomancy |
| Numerology | Dream analysis |
| Astrology | Astrology |
| Past Lives | Numerology |
| Dream Analysis | Past life |
| Love & Money & Career | Palm readings |
| Spiritual Guides | Graphology |
| | Picture readings |
| AskNow Special offers 🔥 | Kasamba Special offers 🔥 |
| --- | --- |
| 30 min/$30 and 40 min/$40 intro packages | Free three minutes |
AskNow vs California Psychics
California Psychics is a psychic reading site that is a good 10 years older than AskNow, but you will never tell it from a glance. One of the instances where California Psychics wins over AskNow is the variety of psychic services: it's the biggest one we've seen in all psychic reading websites. On the other hand, the price range and quality level offered by California Psychics and AskNow are pretty similar.
| AskNow Prices 💲 | California Psychics Prices 💲 |
| --- | --- |
| $5.99/minute–$13.99/minute | $4–$10 per minute |
| AskNow Services 🔮 | California Psychics Services 🔮 |
| --- | --- |
| Tarot | Tarot |
| Numerology | Clairvoyance |
| Astrology | Pet psychic readings |
| Past Lives | Mediumship |
| Dream Analysis | Astrology |
| Love & Money & Career | Numerology |
| Spiritual Guides | Runes |
| | Pendulum |
| | Dream analysis |
| | Lost objects |
| AskNow Special offers 🔥 | California Psychics Special offers 🔥 |
| --- | --- |
| 30 min/$30 and 40 min/$40 intro packages | Three introductory packages |