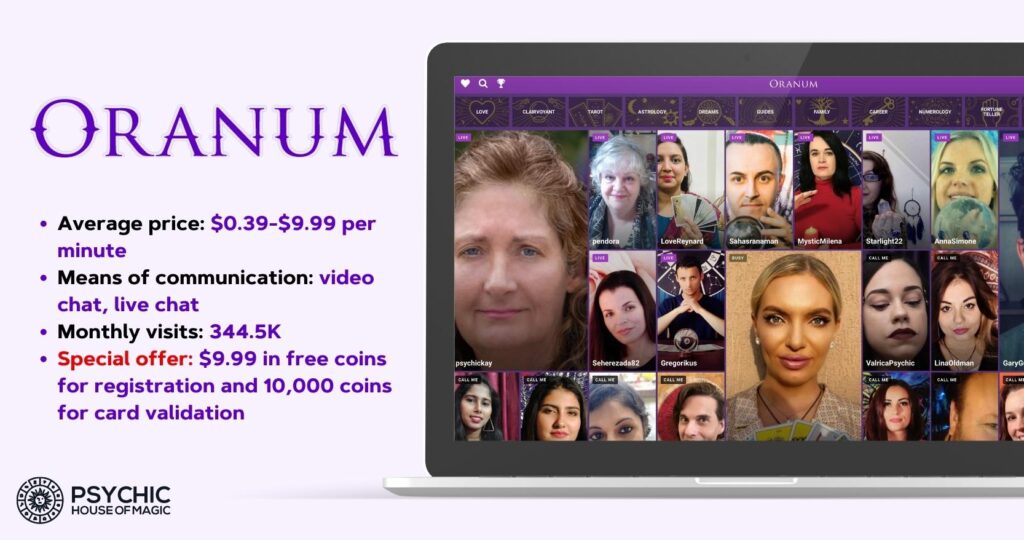 This Oranum review can point out that the mentioned site stands out among other similar platforms thanks to the opportunity to check out the offered services before you pay for a reading. Yet, you'll have to invest time into looking through psychics' profiles to find your match. The site has a slew of niche readings, so whatever you're looking for, you're likely to stumble on it on Oranum. There are 12 main categories with different services, including tarot, astrology, dreams, guides, and other areas. 
Although there are so many options to choose from, you have to be ready that they're a bit out of place because the site doesn't have filtering features. But one of the advantages mentioned in Oraum reviews is that the psychics who work at the site are obliged to host free live sessions each week. 
In this way, you get to understand what they have to offer and decide whether you want to try out the services of a specific professional. Also, advisor's profiles include short bios, which makes it easier to choose an expert who fits your expectations. 
Besides, Oranum offers attractive deals for newcomers. For example, you get $9.99 in free credits for registration. Also, you receive 10,000 coins for card validation. These are great options for testing out the site to understand whether it fits your preferences. 
Oranum's main features
Oranum psychic readings are the most notable feature of the site, but there are additional ones:
Services for every case. Many users mention in their Oranum reviews that the site helped them deal with various issues, from understanding where their careers are heading to figuring out the problems with their health.

Reasonable pricing. The prices at Oranum vary between $0.39 – $9.99 per minute. Also, there are special deals for users who want to save money while getting more services. For example, you can pay €35.99 ($36) and get 12,700 coins (2,500 come as a bonus). There are several options under different budgets, from €5.99 ($6) to €479.99 ($486).

Convenient interaction with psychics. You can reach out to psychics via chat or join a video streaming with a specialist on a private channel. Also, you can call Oranum psychics and send them emails.

Surprises. You can send a surprise to your favorite advisor to tip their efforts. Browse the catalog of surprises and pay for them using the website currency — coins.

Watching live streams for free. Not many online psychic reading platforms can boast the ability to demonstrate live sessions. On Oranum, you can watch live sessions of psychics absolutely free of charge.

Mobile application. Now you can reach Oranum psychics while being on the move. With the help of well-elaborated mobile apps for Android and iOS, your psychic reading sessions will be mobile and hassle-free.
Oranum—legit or scam?
Unfortunately, this site doesn't have 100% satisfaction guarantees, which means that you aren't fully protected from the Oranum scam. Yet, you can join the psychics' live streams without any commitments to see for yourself whether they're worth your attention. You're the one to decide whether to opt for this platform after reading our Oranum review, but we would say you should give it a go!
Pros and Cons
This Oranum review outlines all the pros and cons of using the website. Carefully study the information below to have a better glimpse of whether this site fulfills your expectations. 
Pros
Numerous interactive features, including live streams of psychics
Multiple perks for newcomers
Multiple means of communication, including private video sessions
Affordable pricing policy
Cons
Confusing payment system
A bit cluttered user interface
Too large database of Oranum psychics, so it is difficult to find the best fit
Oranum review—Pricing & Discounts
Numerous novice users are wondering whether it is beneficial to login Oranum and whether this website has a moderate pricing policy. That is why our team decided to consider the price point in greater detail for you to have a smooth experience on the site. Overall, the rates of Oranum psychics vary from $0.39 – $9.99 per minute. It is worth mentioning that the platform uses a coin system, which implies purchasing a package of coins. You can choose between the following packages to use the services of the website to the fullest. 
227,000 (91,000 Bonus) = €479.99
107,000 (39,000 Bonus) = €239.99
47,000 (13,000 Bonus) = €119.99
22,700 (5,700 Bonus) = €59.99
12,700 (2,500 Bonus) = €35.99
3,700 (300 Bonus) = €11.99
1,700 = €5.99
As you see, the larger package you choose, the greater bonus you will achieve. 
When it comes to discounts and bonuses, Oranum definitely hits the online psychic scene. However, the majority of options are available for new users. Aside from having an opportunity to participate in a free chat with a particular expert before you purchase a package, you can achieve $9.99 for purchasing your first coins. Moreover, it is possible to achieve 10,000 free coins after you validate your credit card. Suffice it to say, there is no need to worry about the Oranum scam since all billing operations on the website are absolutely secure. 
Customer experience
Are Oranum psychics fake? Is Oranum scam? It is normal when such questions pop up in the mind of potential users. Our team has explored the user experience to deliver relevant information about the authenticity of the site and its services. First off, it is worth mentioning user testimonials right on the personal pages of psychics. Moreover, it is possible to rate experts in order for other users to choose the best from the best. On top of that, we have analyzed the Oranum reviews on such reputable platforms as TrustPilot and SiteJabber to determine whether the site is as good as it claims. Based on SiteJabber, Oranum has a user rating of 4.49 stars from 271 reviews, meaning that the majority of customers are generally satisfied with the services the platform offers.
What users like 👍
Based on the testimonials, the users like the following about Oranum:
Multiple methods to contact psychics, including a private video chat
Free video sessions to learn more about experts and the props they work with 
Psychic readers who show a high level of expertise 
Moderate pricing policy — The prices on the website vary between $0.39 – $9.99 per minute
Customer feedback 
Additional freebies 
Tons of useful information for those who want to get involved into spiritual practices and techniques 
What users dislike 👎
Oranum reviews written by real customers indicate that the following aspects leave much to be desired:
A bit confusing interface
No advanced searching options
Confusing payment system 
Lack of benefits for regular users 
Some advisors don't offer the opportunity to talk via video
Types of readings on Oranum
There are different types of Oranum readings based on your needs and the questions you want to address. It's always a good idea to choose the reading depending on your situation and the expected outcomes. For example, if you have a specific question and want to get a clear-cut answer, you might consider Tarot readings. Meanwhile, if you want to understand your strengths, hidden talents, and callings better, astrology has all the chances to become the technique you've been looking for. 
In general, you can find the following types of readings on Oranum: 
Love and relationships. Want to know if a specific person is meant for you or if the relationship will be committed and long-lasting? Then, Oranum psychics can help you out.

Tarot. It's one of the best ways to address the questions that have been bothering you for a while. The Tarot deck has different cards that can be interpreted in certain ways, and each card adds to the previous message. The psychic will connect to your energy to ensure a high-quality and accurate reading and provide you with a full picture of the situation.

Dream interpretation. We often see different people or events when we're asleep and can't help but wonder what such dreams mean. Since dreams are tightly related to our subconscious, it's critical to know how to interpret them because that's how one can get valuable hints and insights.

Clairvoyance. A person gifted with a knack for clairvoyance is someone who uses their so-called 3rd eye to get information about people, locations, and objects. Such specialists can help you understand what to expect in the future or how a certain person treats you, to name a few.

Astrology. When understanding how your date of birth has impacted you, it's easy to get insight into your abilities and talents, as well as understand what to expect in your personal and professional life. The stars can help you build more confidence in your life and define the steps you should take to get closer to your targets.

Horoscope interpretation. Horoscopes can tell you what to expect from the day and set you into a more optimistic mood, bringing you to hope and preventing you from giving up. Since each Zodiac sign has specific characteristics, the horoscope will emphasize them and provide clues about what you need to do on a certain day.  .

Palm reading. There are different palm lines on our hands and each one can tell you more about a specific aspect of your life. For example, you can get to know more about your financial success and love life. That's also a good way to dive deeper into your strengths, weaknesses, and fears.

Numerology. This type of reading on Oranum can help you make better decisions and understand how to address complex situations. The numbers will aid you in approaching health, love, education, career, and relationships spheres more mindfully.
You can easily select among qualified Oranum psychics online based on the professionals' specialization. Each reading type is suitable for a specific situation or question, so make sure to clearly define your expectations and select the psychic based on them.
How to use the Oranum website?
How does Oranum work? This question concerns numerous potential users. If you are a newbie, you may feel difficulties in making the most out of all features the site offers. With this brief guide on how to use Oranum, your experience on the site will be more effective and immersive, so keep scrolling down. 
Initiate the process of registration, identify your user name, email, and password to get started. Remember your login Oranum information to always have access to your account.  
Validate your credit card to get free Oranum credits. 
Browse the psychics' profiles or use the search to find your favorite advisor. It is possible to browse experts by categories. 
Watch the live shows of psychics and click Start Session if you want to have a private conversation. 
It is possible to write in the public chat or tip the advisor using free Oranum credits or those you have purchased with the package. 
You can order a special request for your Oranum live session. 
Oranum mobile app overview
Once you complete the Oranum psychic registration and have an account at the site, you can also access your profile via the mobile app. It's available both for iOS and Android, and it's easy to join free live sessions of advisors using your phone. It has almost all the features the web version does, so you can get a reading regarding your location. Moreover, you can conveniently browse psychics' profiles using the app because it shows all the information you need to know about the specialist. 
The app has a user-friendly interface and neat design, implying you won't have to spend time guessing where the necessary feature is located. Users point out the convenience of having an app because it allows them to schedule, for example, a Tarot reading session and get help in making a decision right away. 
Yet, the Oranum app might not be as great in usage as the site because when you have a video call with the psychic, it doesn't fit the screen properly. This makes the experience less enjoyable, but if you prefer calls or chats, you won't face any issues. 
How to find the right psychic for you
Once you've completed the Oranum psychic registration, you get access to the database of advisors specializing in different reading techniques. Selecting a suitable specialist will define the reading's outcomes, so you should carefully review the available psychics before you settle down for one of them. These are some tips that will help you find the right advisor:
Get clear about your needs

Once you understand what questions you have and specify your expectations about the session with a psychic, you can understand what type of reading you need and will select the specialist based on this. For example, it's always better to have an advisor specializing in love and relationship readings if you want to address the issues in this area. 

Review several readers

There are many Oranum psychics online, so you can take a look at the services they specialize in and see if the costs match your budget. Some advisors have a bunch of areas they focus on, while others prefer paying attention to just a couple of them, so it's up to you what kind of professional seems more reliable to you. 

Take a look at what other users say

Usually, people share their feedback about cooperating with psychics and the outcomes of their reading sessions. That's how you can understand whether a certain professional is the one who can help you address your questions and match your expectations. 

Schedule the first session and see how you feel

As soon as you decide on the psychic, don't hesitate to schedule a session either via phone or chat. When communicating with professionals, pay attention to your feelings to understand if you feel comfortable and whether the things the psychic says resonate with you. In case something feels off, try opting for another specialist.
To make things easier for you, we created a list with the top 5 Oranum psychics online you can choose from. These specialists are known for providing high-quality services and helping their clients get valuable insights and significantly improve their lives!
Top 5 Oranum Advisors
Do you know that it is possible to leave Oranum reviews just after the session with a particular advisor? Moreover, you can vote for the best psychic on Oranum to increase their ratings on the website. If you are a novice in the psychic reading sphere and choose Oranum as a starting point in your spiritual adventures, feel free to use this guide to the website. We've compiled the list of the most prominent Oranum psychics, with their approaches and methods outlined for you to have a better understanding of what to expect from your spiritual sessions. 
AlyciaRose
AlyciaRose is a skillful and experienced psychic advisor that has been delivering her services on the platform for more than 8 years. The expert specializes in tarot card reading, dream interpretation, clairvoyance, and reiki healing. Based on the Oranum reviews written by real customers, AlyciaRose delivers honest, clear, and accurate readings to her clients. She never hides the details, no matter whether they are good or bad. The main tool AlyciaRose uses during her sessions is tarot cards. She connects the cards with her energy and the energy of the client and analyzes past, present, and future events. Despite delivering first-class services, the expert has quite affordable rates of $5.99 per minute. 
Sensei
According to Oranum psychic reviews, Sensei is one of the best and most sought-after psychics on the site. With a 5-star rating and more than 300 real customer reviews, this expert has cast popularity among both newcomers and returning users. Sensei has a high level of expertise in clairvoyance and angel readings. Whether you have troubles in relationships, your career, or life, you can always approach this expert to get a piece of insightful advice. If you are still hesitating about whether Sensei works for you, feel free to watch his live streams. Thus, you familiarize yourself with the way he interacts with energies and helps people. By the way, on Sensei's personal page, you can watch numerous informative videos for free and discover helpful rituals for only 500 coins each. 
Nourevoyance
His name is Nour which means light. This is how nourevoyance represents himself on his personal page. Many clients consider him to be the best psychic on Oranum, just read the users' testimonials, and you will see that the services of this expert are worth the attention. You can contact nourevoyance via email, phone, or video means communication. Nour uses different tools during his sessions — everything depends on the client and his spiritual goals. If you have questions or concerns related to your job or love affairs, don't hesitate to visit the personal page of this psychic. You will definitely discover numerous interesting things for you. 
Tgtarot
If you are on the lookout for Oranum psychics with a 5-star rating, you can approach tgtarot. As the nickname says, the main tool this expert uses in his practice is tarot cards. Moreover, tgtarot specializes in mediumships, which is beneficial for those who want to connect with their deceased significant others. If you scroll down the profile of this expert, you will see numerous videos dedicated to spiritual practices. The most advantageous thing here is that you can enlarge your knowledge in psychic readings absolutely for free. Not all experts on the site offer this exclusive opportunity. 
Countessstarella
If you want to dive deeply into mystical words and dream analysis, feel free to contact countessstarella. She claims to be one of the most respectful clairvoyants worldwide, and numerous Oranum psychic reviews prove that it is true. During her sessions, countessstarella has an extraordinary look that completely reflects her attitude to life and her work. This expert uses a personal approach to each client and is very attentive, especially if things are not so good. If you are ready to open your mind to the otherworldly powers and discover new opportunities for your life, you are welcomed to the personal page of this outstanding psychic.
FAQ
What is Oranum?
Oranum com is a reputable website dedicated to psychics and spiritual practices. It offers a decent database of psychic readers that offer high-quality services and specialize in different niches. Whether you have worries in the love and relationship sphere or you want to encourage a career boost, feel free to approach specialists on the website.
Is Oranum secure & confidential?
If you still ponder over the question "Are Oranum psychics fake?", you will need to know that this website provides a secure environment for both clients and psychics. Aside from delivering authentic services, the site has responsive customer support. As soon as you login Oranum, you can make the most of the measures the site takes to protect your personal data. Moreover, the platform meets the international requirements of PCI DSS. That is why the company ensures the data security and authenticity of services. 
Does Oranum have a refund policy?
Unfortunately, the site doesn't provide a refund for Oranum live sessions. However, if you have any questions or concerns, you can always contact a customer support team via the 24-hour phone helpline (+352) 20 88 27 91. 
How to find my trusted advisor on Oranum?
All advisors on Oranum undergo a strict selection process before creating their profiles on the website. When you take part in the Oranum live sessions, you can be sure that the psychics have enough expertise and skills to give insightful spiritual advice. You just need to find the right specialist who works with the life sphere you would like to work with. 
Can an Oranum psychic really tell me my future?
Oranum psychics use various techniques that allow them to tap into how people feel and what the future holds for them. They can understand what you've been through in the past and explain the events awaiting you based on the received information. You can receive guidance and valuable advice when in a session with an Oranum psychic, and it will help you plan your next steps. 
How do I get free minutes on Oranum?
You can get Oranum free credits right after registration because they're offered to each new member joining the site. You can use these minutes to try our psychics' services and understand if the selected specialist matches your preferences or if you want to communicate with other professionals. 
How can you connect with Oranum advisors?
Oranum psychics use various techniques that allow them to tap into how people feel and what the future holds for them. They can understand what you've been through in the past and explain the events awaiting you based on the received information. You can receive guidance and valuable advice when in a session with an Oranum psychic, and it will help you plan your next steps. 
Are there any popular alternatives to Oranum?
Although there are many Oranum psychics online to choose from, you can take a look at other platforms in the industry to see what they have to offer. The most popular alternatives include Keen, California Psychics, and AskNow. 
Oranum Psychic Website Video Review
How Oranum compares to other psychic reading sites
It's always more convenient to have several alternatives, especially when it comes to something as personal as psychic readings. So, we decided to compare some of the most popular sites in the niche to help you make the final decision. 
Oranum vs Kasamba
Oranum is known for having a slew of reading types to choose from, so you can easily find anything there, from popular Tarot readings to unique ones like sound healing. The site has an impressive psychic database, and you can connect with the professionals via chat, video, or phone. Also, each professional has to undergo an Oranum psychic test to prove their talent and trustworthiness. 
Speaking of Kasamba, it offers more than 35 types of readings, both popular and rare, including Vedic astrology and spell casting. The site has over 300 professionals, but you can connect with them only via chat. Kasamba offers a money-back guarantee if you're unsatisfied with the reading. 
| Oranum Prices 💲 | Kasamba Prices 💲 |
| --- | --- |
| $467–227,000 (91,000 Bonus)  | $1.69–$25.49 per minute |
| $58–22,700 (5,700 Bonus) | |
| $12–3,700 (300 Bonus) | |
| $6–1,700 | |
| Oranum Methods 🔮 | Kasamba Methods 🔮 |
| --- | --- |
| Phone | Chat |
| Video | |
| Chat | |
| E-mail | |
| Oranum Special offers 🔥 | Kasamba Special offers 🔥 |
| --- | --- |
| free credits for registration | 3 first minutes for free |
| free chat with a psychic before paying | 15% off the first session |
| bonuses for card validation | frequent deals sent by email |
Oranum vs Keen
Oranum has 13 primary categories and about 60 subcategories that allow users to find the reading that'll perfectly match their requests and questions. There, you can find rare services like Indian astrology and more common ones, including dream analysis. Over 1,000 specialists work for Oranum, and you can join professionals' live sessions to see what they have to offer.
As for Keen, it has about 24 categories to choose from, and each top category has over 100 specialists to choose from. There, you can find highly-qualified professionals specializing in Tarot readings and stumble upon those who have a talent for otherworld connections. 
| Oranum Prices 💲 | Keen Prices 💲 |
| --- | --- |
| $467–227,000 (91,000 Bonus)  | $1.99–$30 per minute |
| $58–22,700 (5,700 Bonus) | |
| $12–3,700 (300 Bonus) | |
| $6–1,700 | |
| Oranum Methods 🔮 | Keen Methods 🔮 |
| --- | --- |
| Phone | Live chat |
| Video | Phone |
| Chat | E-mail |
| E-mail | |
| Oranum Special offers 🔥 | Keen Special offers 🔥 |
| --- | --- |
| free credits for registration | first 3 minutes for free  |
| free chat with a psychic before paying | $1.99 for 10 minutes on your first session |
| bonuses for card validation | Refer-a-friend program |
Oranum vs California Psychics
Oranum is the place with one of the largest selections of readings, including such rare ones like Eastern, rituals, and energies, and pet psychic. It offers to choose from several credit packages and gives additional credits to those who validate their credit card. Psychics' profiles include many photos and reviews, and you don't need to put a lot of information when creating a profile on the site. 
As for California Psychics, the platform has about 9 different reading topics to choose from and around 500 registered psychics. You can find readings about love and relationships, money, and career on the site. The site offers to have a reading, the price of which starts from $1 per minute. 
| Oranum Prices 💲 | California Psychics Prices 💲 |
| --- | --- |
| $467–227,000 (91,000 Bonus)  | $1–$15 per minute |
| $58–22,700 (5,700 Bonus) | |
| $12–3,700 (300 Bonus) | |
| $6–1,700 | |
| Oranum Methods 🔮 | California Psychics Methods 🔮 |
| --- | --- |
| Phone | Chat |
| Video | Phone |
| Chat | |
| E-mail | |
| Oranum Special offers 🔥 | California Psychics Special offers 🔥 |
| --- | --- |
| free credits for registration | welcome discount |
| free chat with a psychic before paying | first psychic reading for $1 per minute |
| bonuses for card validation | Karma rewards program |
Final word
Once you login Oranum, you can plunge into the world of effective spiritual practices and otherworldly powers. All you need is to choose the category to work with and the specialist who works for you. The bragging point of the website is that you can watch live streams and communicate with psychic advisors tet-a-tet. Thus, you will get closer to the expert and make your sessions more effective. Overall, if you want to achieve a value-per-money service without leaving your home, head over to the Oranum website and be ready for new spiritual adventures.