Home » Psychic Readings »

Cartomancy Readings Online: Top Sites + Card Interpretations
No matter how well your life is going, things can get difficult or confusing in a matter of seconds. Suddenly, you find yourself searching for answers to the most important questions. "Does he love me?", "What should my next career move be?" or "What does the future hold for me?" are just some of the things that can occupy your mind at different stages of your life.
Various psychic readings are considered to be the number one source for answers to these vital questions. Over time, people have developed a whole range of tools and techniques for psychic readings. There are tarot cards, crystal balls, and even something exotic like pendulums and automatic writing. However, some of the most effective tools are the ones everyone is familiar with, such as playing cards.
Today, we will tell you everything about cartomancy: what it is, where to get accurate cartomancy readings, what different cards mean, and what to know to get the best experience out of a cartomancy session.
What Are Cartomancy Online Readings?
Cartomancy is a psychic practice of interpreting a spread of playing cards. The spread can include different numbers of cards and different layouts. The choice of the layout and the number of cards used depends on the psychic's personal preference, as well as the questions asked by the client.
The card deck always includes all four suits and typically all cards from 2 to aces. Some psychics also prefer to include joker and blank cards, as they believe that a spread that has these cards can dramatically change their meaning. These are regular playing cards people widely use for poker, bridge, and other popular card games. However, when used for cartomancy readings, these perfectly familiar cards get a different, spiritual meaning. 
For a long time, people could only get these services from brick-and-mortar places or by visiting a friend who claimed to be good at cartomancy. Luckily, now there is no need to go anywhere, as there are plenty of cartomancy readings online free and paid services where you can get high-quality cartomancy readings online from trusted professionals and get answers to the questions you have been asking yourself for a long time.
Best Accurate Cartomancy Readings Websites
If you Google "cartomancy readings online free", your search will return dozens of websites promising the most accurate readings and the most experienced psychics. However, cartomancy card readings are one of the most popular branches of the psychic business, and it doesn't always attract the most honest providers. This is why we've selected the top seven websites that provide paid and free accurate cartomancy readings online.
Kasamba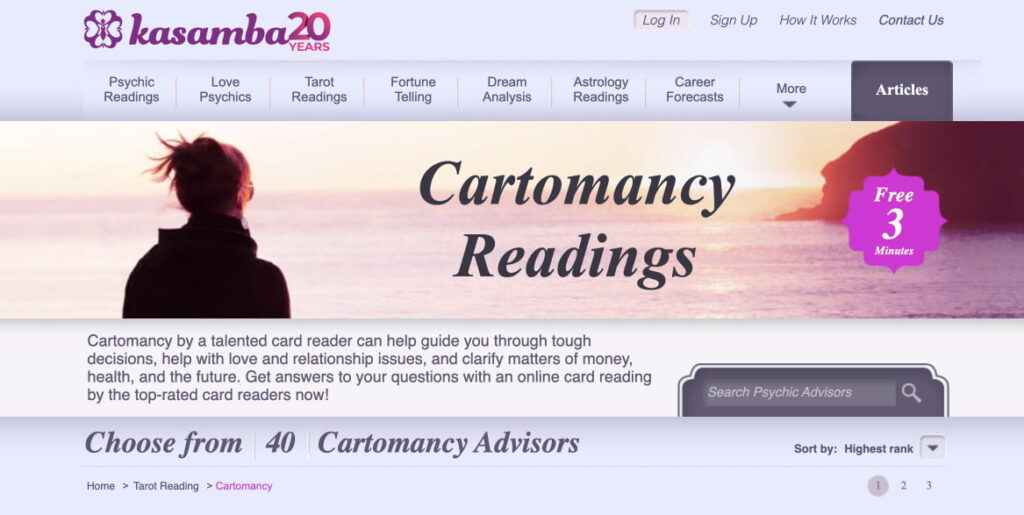 Founded: 1999
Communication channels: Phone, chat, email
Psychics online: 70+
Price (from): $1.69
Special offer: 3 free minutes with any reader
Launched over two decades ago, Kasamba has quickly earned the reputation of a reputable psychic reading service that is very customer-oriented. There are over 40 card readers working on Kasamba, so you can choose someone who meets your expectations.
Most psychics on this site provide readings via phone and chat, and some also offer email readings for a fixed price. To make it easier for you to make that choice, Kasamba has a special offer: 3 minutes for free with any psychic. After that, you can continue the session by paying money per minute.
Keen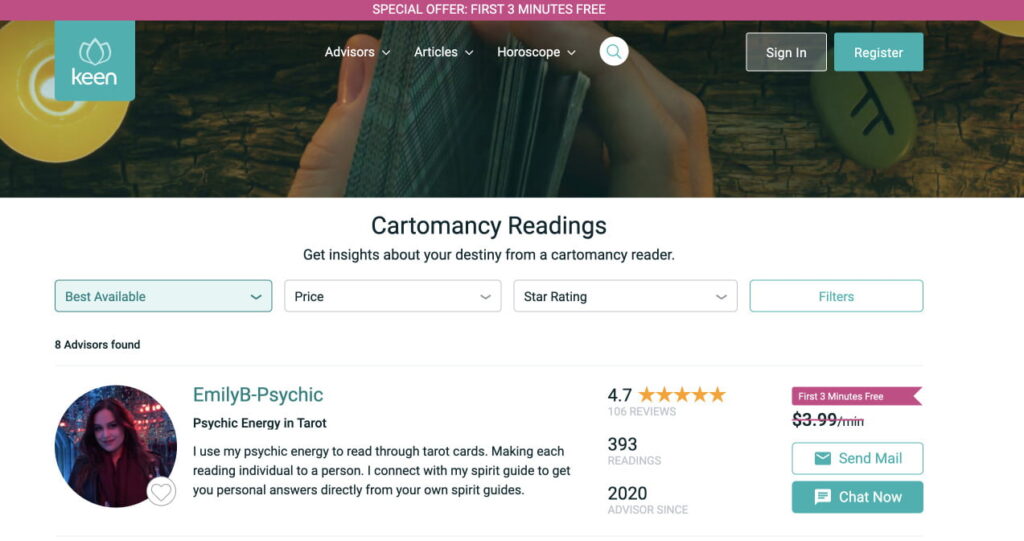 Founded: 1999
Communication channels: Phone, chat, email
Psychics online: 100+
Price (from): $1.99
Special offer: 3 free minutes with any reader
Like Kasamba, Keen was founded over two decades ago. And like Kasamba, it has successfully evolved with time, so you never get a feeling that this is an outdated cartomancy service. Cartomancy is only one of Keen's specialties, as the psychics on this site offer a variety of spiritual services.
The readers on Keen work around the clock, so there is always someone to answer your phone call, chat question, or email. The site frequently promotes new psychics or psychics with 10+ years of experience, so there is the right person for every request. As a special offer, you can talk to any psychic online for 3 minutes.
Nebula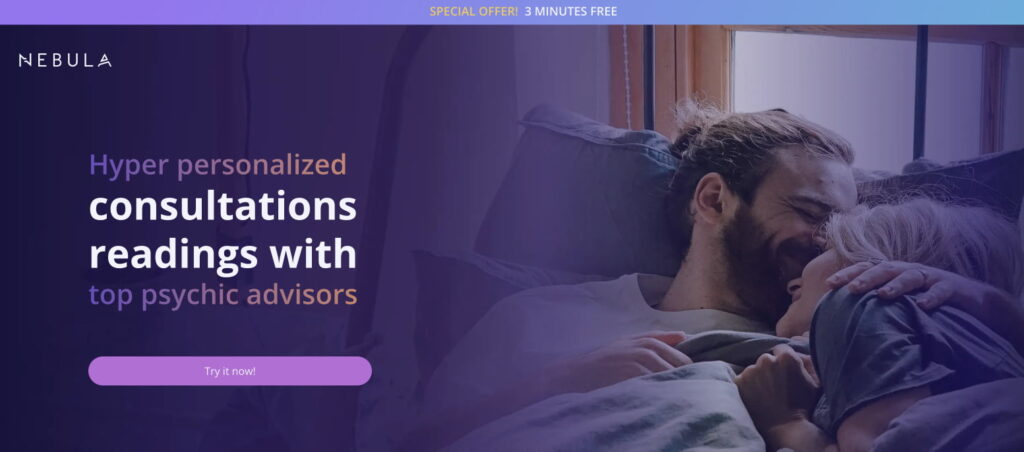 Founded: 2019
Communication channels: Chat
Psychics online: 50+
Price (from): 30 credits per minute
Special offer: 100 free credits
Nebula is a relatively new psychic reading service, but it already has a loyal following online. Customers enjoy the site's clean design, availability of mobile apps, and wide range of psychics, including cartomancy readers. The unique thing about Nebula is that all psychics on the site cost the same, 30 credits per minute.
Nebula has a matching system, helping you select a psychic based on your current needs. You can also review the list of psychics currently online and consider their experience, rating, psychic tools, and topics to choose a psychic who matches your requirements.
Mysticsense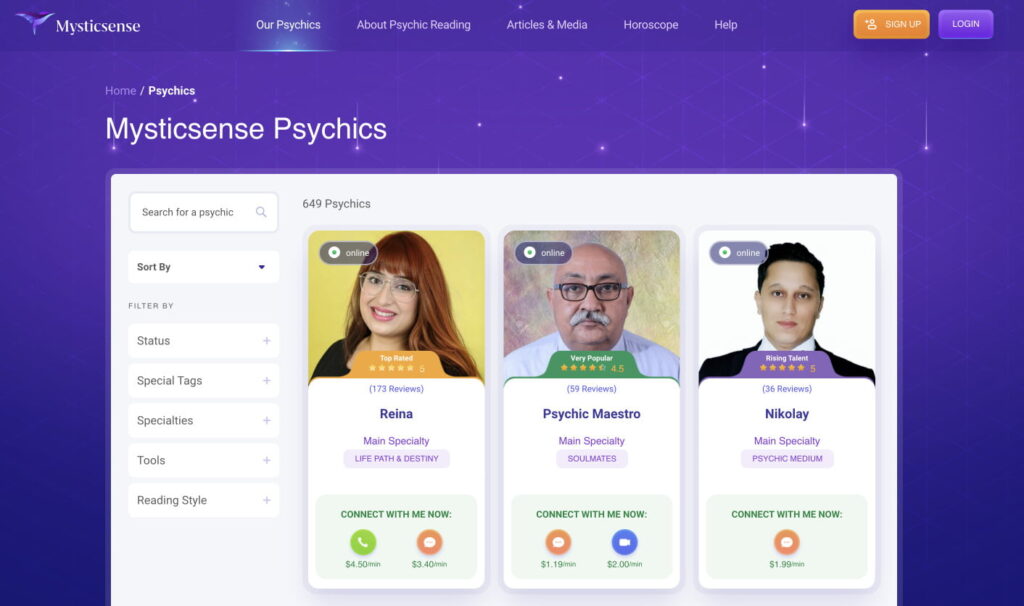 Founded: 2020
Communication channels: Phone, chat, video chat
Psychics online: 60+
Price (from): $0.99
Special offer: Free 5 minutes with any psychic
Mysticsense is the newest site on our list, but it has already become one of the contenders for the title of the best one. Among its many other psychic services, Mysticsense also provides cartomancy readings, and thanks to the variety of communication methods, you can tailor your perfect reading session.
Mysticsense is only two years old, but it has psychics who have over 10 years of experience. There are many less experienced readers as well, and it's one of the factors influencing each reader's price. There is also an opportunity to get cartomancy readings online free for 5 minutes to get acquainted with the reader and decide if you like their approach.
California Psychics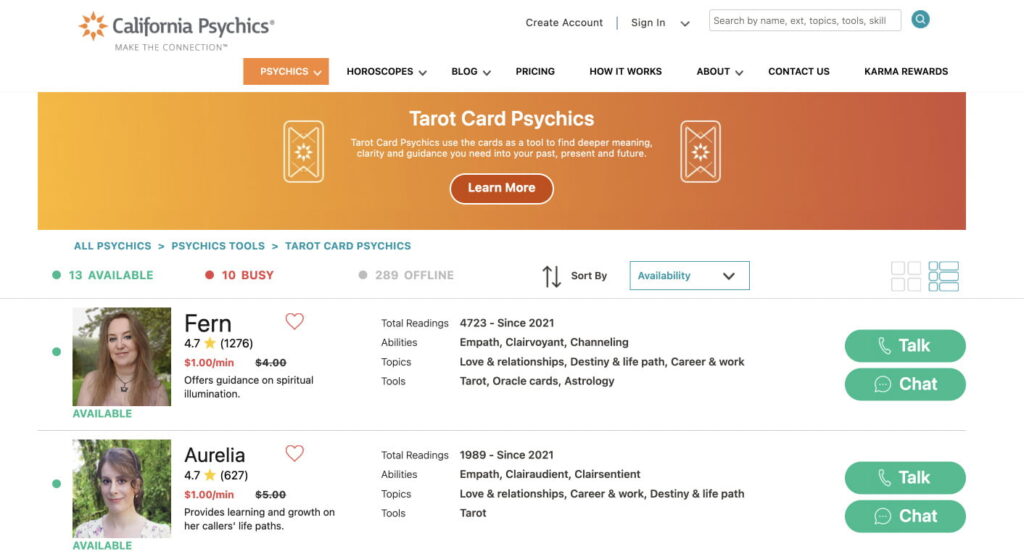 Founded: 1995
Communication channels: Phone, chat
Psychics online: 30+
Price (from): $4
Special offer: First reading is $1 per minute
California Psychics is the oldest card reading service on our list, but it's far from being obsolete. It has managed to stay relevant throughout all these years by offering a superior combination of reading quality and prices. 
One of the standout features of California Psychics for us is the feature that shows you whether the psychic is currently busy, how many people there are in line, and the estimated waiting time. You can also find the schedule for every psychic on this site has a different rate, but your first session with any of them, no matter how long, is always going to be $1 per minute.
Oranum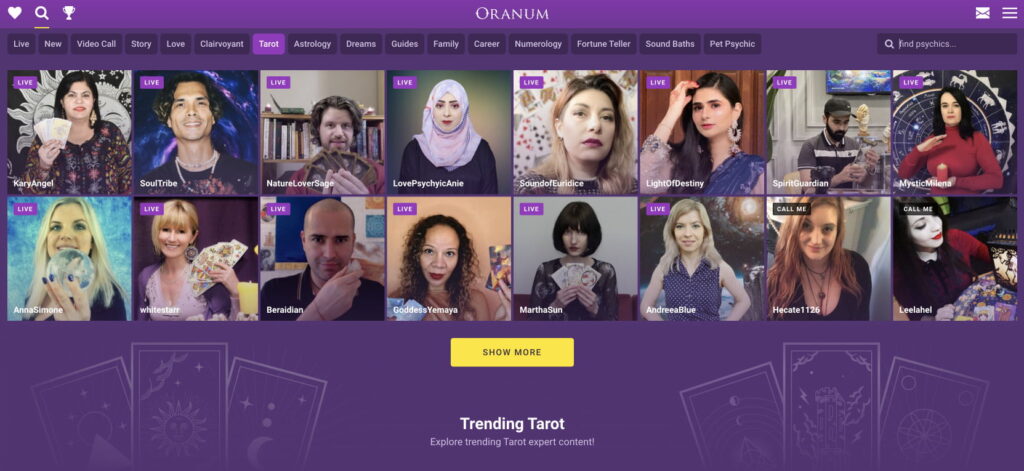 Founded: 2013
Communication channels: Phone, chat, video chat
Psychics online: 100+
Price (from): $0.39
Special offer: Free 10,000 credits
Oranum is close to 10 years old, and it's a completely unique psychic reading service. Most importantly, it's the only cartomancy service on our list that provides its psychics with the ability to broadcast live videos to their customers. In other words, you can visit the site, find a psychic you like, watch their broadcast for free, and maybe even tip if you like their style.
In addition to offering lots of communication methods and having the highest number of psychics available online, Oranum also uses a credit-based system for its paid services, which allows you to easily control your spending.
AskNow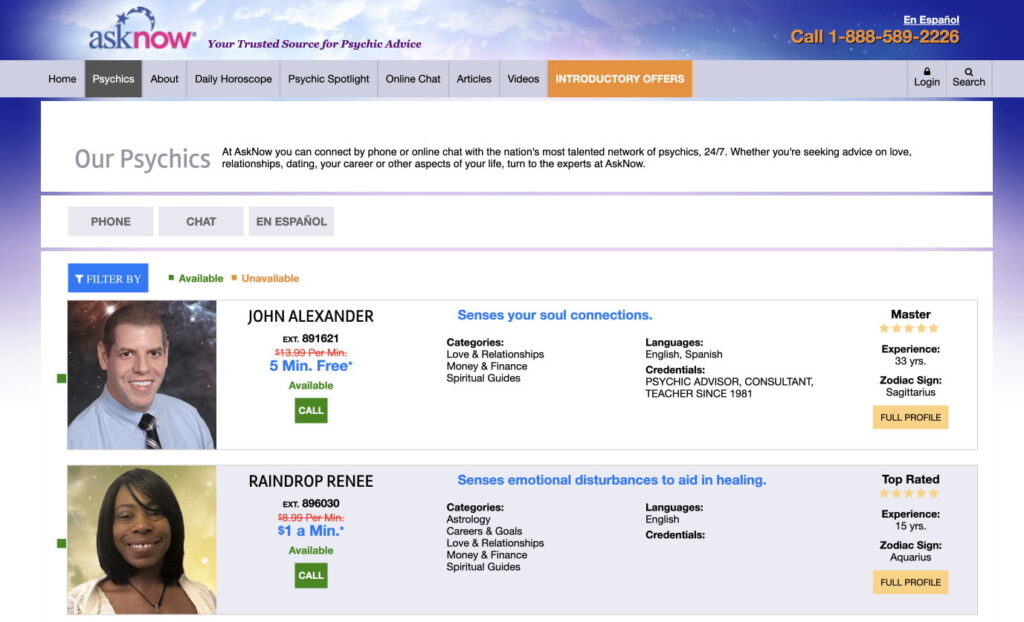 Founded: 2005
Communication channels: Phone, chat
Psychics online: 20+
Price (from): $5.99
Special offer: First session is $1 per minute
AskNow is a popular psychic reading service that has dozens of cartomancy experts. This website also makes it easy for you to find your favorite psychic: in addition to being able to see all psychics who are currently online or provide cartomancy reading services, you can also visit the Psychic Spotlight section, where you can get to know top readers of the site.
AskNow has a generous introductory offer. The site has a rating system for psychics. There are Top Rated, Elite, and Master psychics. As a first-time user, you can get 30 minutes of reading with a Top Rated psychic for $30 or 40 minutes for $40. Moreover, in the same package, you will get 5 minutes with an Elite or Master psychic of your choice.
How Do Cartomancy Readings Differ from Tarot Card Readings?
Besides the obvious features, such as the number of cards or the imagery, cartomancy readings online are different from tarot card readings in their interpretation. A tarot card spread is open for interpretation, and each combination can have multiple meanings. Playing cards are much more precise in this regard: whichever card you get in a spread, the meaning is clear and should give you plenty of food for thought.
Cartomancy Card Layouts & Interpretations
We will start by saying that the best person to interpret a card layout is a professional person who does it for a living. However, it's always a good idea to be informed about the meaning of playing cards. That way, you can offer your guests a fun activity at the next party or even tell if your psychic actually knows what they're talking about or simply makes things up as they go.
Of course, there is more to cartomancy readings than simply knowing the meaning of each card. The unique card combinations, as well as the suit, can provide complete answers to any life questions you may have. This is exactly why it's better to get cartomancy card readings online from a trusted provider so that you know for a fact what the future has in store for you.
Generally, number cards refer to the upcoming events from your near future, while face cards refer to the important people in your life. Here is what different cards and suits mean.
Diamonds
Cards with a diamond suit have to do with your financial situation.
Ace of Diamonds: You can expect an important message.
2 of Diamonds: Positive news about your finances.
3 of Diamonds: Inability to make a finance-related decision.
4 of Diamonds: A sign to consider financial responsibility.
5 of Diamonds: There is going to be a financial change in your life, either positive or negative
6 of Diamonds: A sign that your budget or investments need closer attention.
7 of Diamonds: The future of your finances is not ideal.
8 of Diamonds: Prepare an emergency fund for unexpected financial changes.
9 of Diamonds: A sign that you will likely face major but unexpected expenses.
10 of Diamonds: Your financial breakthrough is just around the corner.
Jack of Diamonds: Negative developments in your financial situation.
Queen of Diamonds: An affluent, sociable female figure in your life.
King of Diamonds: An accomplished, financially stable gentleman.
Spades
Cards with spades suits usually reflect the upcoming battles you'll need to face.
Ace of Spades: A major change in your life is about to happen.
2 of Spades: Possible conflict between you and your loved ones.
3 of Spades: A situation in the near future that may end in tears.
4 of Spades: Wait for just a little until things go back to normal.
5 of Spades: One of the aspects of your life is going to change significantly.
6 of Spades: A sign that your fate will take an unexpected turn soon.
7 of Spades: A conflict may lead to you losing a lover or a friend.
8 of Spades: An upcoming work situation that requires you to act quickly.
9 of Spades: Possible end of a relationship or falling out with a family member.
10 of Spades: Bad news may cause you to feel worried or stressed.
Jack of Spades: Be wary of possible betrayal in your social circle.
Queen of Spades: Think of a woman who often brings trouble.
King of Spades: Represents a man with a domineering attitude.
Clubs
Clubs are opposite to spades in cartomancy card readings and refer to the positive changes in your life.
Ace of Clubs: Stands for your secret talent or desire to learn.
2 of Clubs: Make sure to communicate efficiently to avoid possible conflicts.
3 of Clubs: Has to do with creative struggles and thinking process.
4 of Clubs: Sign of an upcoming positive adventure as the result of a mental balance.
5 of Clubs: Sign up to learn a new skill, or try a new hobby.
6 of Clubs: A reminder that you have a strong intuition you can fully trust.
7 of Clubs: A reflection of you feeling suffocated in your current relationship.
8 of Clubs: If there is a conflict in your personal life, you need to act quickly.
9 of Clubs: A significant part or aspect of your life is about to reach completion.
10 of Clubs: An exciting travel opportunity is on your way.
Jack of Clubs: Someone you can fully trust and who is honest with you.
Queen of Clubs: A powerful woman who is the center of attention.
King of Clubs: A loyal man who is always there when you need him.
Hearts
In cartomancy readings, love is the most popular request, and hearts is the suit that reflects the matters of your personal life. 
Ace of Hearts: A new development in the romantic area.
2 of Hearts: A reminder to find time for your loved ones.
3 of Hearts: A lack of commitment threatens the relationship.
4 of Hearts: Absolute stability and contentment in a relationship.
5 of Hearts: An important person may no longer be close to you physically.
6 of Hearts: A perfect state for communicating and collaborating with others.
7 of Hearts: A close person who is flaky and cannot be fully trusted.
8 of Hearts: A social event that will provide big networking opportunities.
9 of Hearts: You or your partner want to take the relationship to the next level.
10 of Hearts: An upcoming big event with you at its center, such as a wedding.
Jack of Hearts: The person you love or your close male friend.
Queen of Hearts: A female romantic partner, a pregnant woman, a mother, or a best friend.
King of Hearts: A male person in your life who has love, care, and affection for you.
Final Thoughts
Whether you use expensive, affordable, or free cartomancy online readings, you should expect the same outcome: a glimpse into your future, some guidance on how to act, and a warning about the things to come. Cartomancy may not tell you the winning lottery numbers, but in the right hands, a card spread can be more informative than many other types of psychic readings.
FAQ
Is there such a thing as cartomancy readings?
Yes, absolutely! While many psychics primarily use tarot cards for psychic readings, cartomancy readings are definitely a thing and a powerful psychic tool. An experienced reader can successfully use a deck of cards to answer all kinds of questions, primarily romance and relationship-related ones.
Is online cartomancy reading accurate?
The accuracy of cartomancy card readings primarily depends on the site you choose for a session and, subsequently, the experience and talent of the reader working with you. If you are talking to a professional psychic with sufficient cartomancy experience, then yes, you can definitely expect an accurate reading.
How to prepare for cartomancy readings?
As always, the best way to approach cartomancy readings, whether you are doing it online or with an in-person reader, is to do it with a clear mind. However, there are two other things you can do to make the experience more effective. One, it's important to clearly formulate the intent for the session. Two, you can put yourself in the right mood using your favorite candles, music, scents, lighting, etc.
What to expect from a cartomancy reading?
The outcome of your cartomancy session very much depends on your intent and the questions you've asked your psychic. Generally, a card spread can answer all kinds of questions, including open-ended ones and ones that need a yes or no answer. At the end of a successful session, you can expect to get more clarity about the issues that worry or interest you the most.
Are there free cartomancy readings?
Yes, there are free accurate cartomancy readings online. Most of them are available to new members of psychic reading sites as a welcome offer. Naturally, these readings are usually limited in time to 3 or 5 minutes. However, these free cartomancy online readings can give you a pretty good idea of whether you want to pay for a full session with this psychic.

Dan Allender is a psychologist and astrology and psychics expert.
He is the founder of The Allender Center and The Seattle School of Theology & Psychology, which prepared mental health professionals and helped hundreds of lives to heal their traumas.
Now Dan is working as a spiritual specialist at PsychicHouseOfMagic.