Having been around since 1999, Psychic Center is regarded as a trusted community for getting answers on life's trickiest challenges. Here, you will get a professional reading from psychics that specialize in love & relationships, mediumship, tarot, and astrology. The average pricing range on the website varies between $2 to $10 for one minute of reading, with most psychics at PsychicCenter charging $5 per minute. Psychic Center experts glean knowledge from their spirit guides, tarot cards, and outer realms. The loyalty reward program at PsychicCenter, AstroRewards, is a great option for those who want to save money while spending: you get 10% back of your monthly expenses if the amount that you spend is $50 or more.
Psychic Center allows you to schedule appointments with experts 24/7. Each psychic has a profile page with the number of readings they have done, the number of reviews, their professional background, pricing, average star rating, and a written introduction from the psychic in the form of an interview. This Psychic Center review will help you get familiar with the range of psychics on the website, their reading style, and personal history. If you want answers to big life questions and the white-glove service with a transparent payment system, Psychic Center specialists get it right. The platform also features a psychic glossary, providing definitions of supernatural terms and phenomena.
PsychicCenter's main features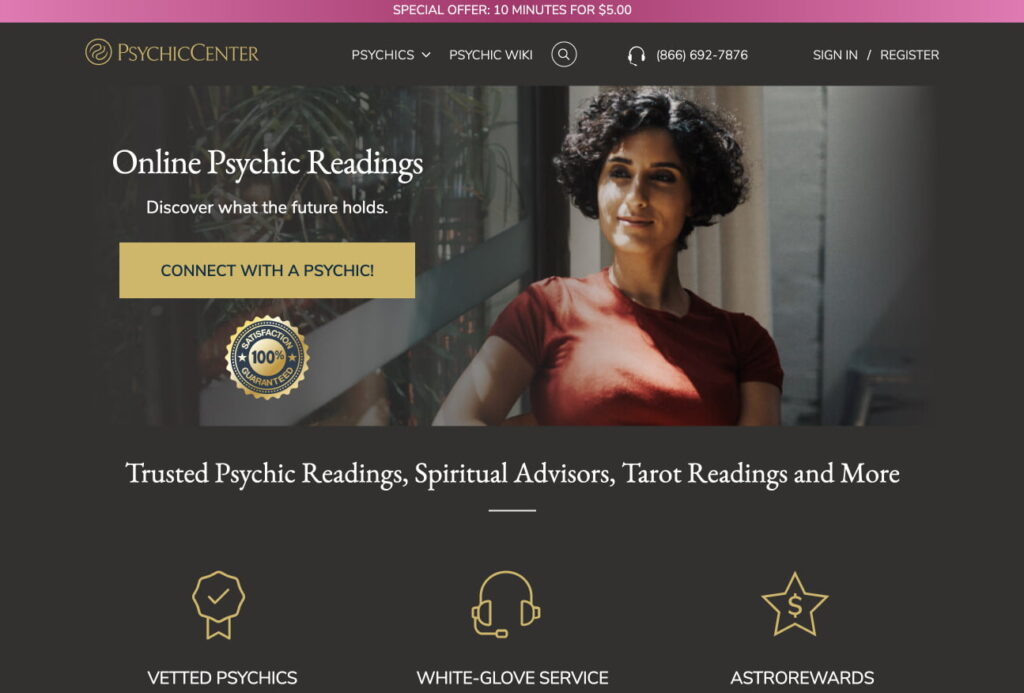 Psychiccenter.com has a number of features allowing to establish an authentic connection with the practitioner and order a reading for inner peace and tranquility:
Detailed psychic profiles. Each psychic at Psychiccenter.com has a bio page you can access by clicking on their image in the Psychics section. You can also find psychics having voice intros recorded for clients.
Online psychic glossary. If you are struggling with spiritual definitions,

PsychicCenter.com

will provide you with a list of psychic terms that will help you understand the message delivered to you.
Psychic email reading. If you do not want to reveal your identity and are pressed for time, ordering an email reading at Psychiccenter.com will provide you with a discreet way of chatting with an advisor.
Loyalty reward program. For customers that want to add money to their account,  the AstroRewards loyalty program was devised. The customer's account will be funded with 10% of their monthly expenses once the spending rate is $50.
Money-back guarantee.

PsychicCenter.com

has a refund policy that will allow you to get a maximum of 3 refunds for a call of 5 minutes or less. Once you report your reading to be inaccurate, you will receive PsychicCenter credits that can be used for the next reading.
Types of readings on PsychicCenter
Despite Psychic Center not having an excessive number of reading types to choose from, the main categories include:
Despite there being only four reading types that you can select to glean evidence from a practitioner, you should not lose heart: upon browsing the psychics' profiles, you will notice that each psychic advisor at PsychicCenter has their specialty (clairvoyant, clairaudient, channeler, empath, medium, tarot reader). 
PsychicCenter—legit or scam?
Is Psychic Center legit? 20 years in the business serve as an indicator of the platform's authenticity, with the psychic team screening process involving third parties to make it more transparent. What can be used as further proof of the site's legitimacy is the customer reviews published on each psychic's profile page. This is a highly convenient feature enabling the users to check whether the selected psychic can be trusted.
To prevent Psychic Center scam, all Psychic Center advisors are subjected to customer feedback and a review system. The vetting of the psychics is always performed by the third-party service to make sure no scammers are allowed on the platform. The fact that PsychicCenter does not remove customer feedback from the psychic's bio page indicates a certain degree of honesty. Only top practitioners are allowed to join the platform. To become a reader at Psychic Center, the psychics need to create an account and prove their qualifications. After being approved and evaluated, they can offer their services to users. 
Pros and cons
Pros
Welcome offer of 10 minutes for $5

AstroRewards loyalty program (10% back)

Third-party verified psychic guides

Affordable rates at $2 per minute

More than 20 years in business

Promo codes for customer birthdays

Psychic glossary for new customers

Detailed psychic profiles with voice intros
Cons
The website's layout does not look contemporary

The number of online psychic readings is limited
Top PsychicCenter advisors
A great variety of Psychic Center reviews point out the platform's moderate selection of psychics compared to other trusted psychic services. This is not a drawback: having a smaller choice of psychic guides allows you to make an informed decision without too much effort. The platform, operating since 1999, features prominent experts that can illuminate the path ahead and help you gain inner peace. Here are the top psychics from Psychic Center that you can contact for an accurate reading.
Pricing and discounts
Psychic Center has a budget-friendly welcome offer for new customers allowing them to purchase a 10-minute reading for $5. This introductory promotion is only the first one in the series of beneficial offers provided by the service. The platform has fairly affordable rates that start from $2 per one minute of reading. The general price for a minute of reading does not exceed $5.99.
If we consider the pricier end of the spectrum for a one-minute reading, there are PsychicCenter experts with an established price of $10.99 per minute. The platform makes it possible for psychics to set their own rates, with less experienced readers charging a lower cap rate until they build up a decent customer base. AstroRewards is a loyalty reward program perfect for returning customers who spend $50+ a month and are guaranteed to get 10% back to their accounts. If your monthly spendings have reached $80, you will get $8 in credits to your account for a next-month online reading. Promo codes and special bonuses are reserved for customers' birthdays. 
Customer experience 
Psychiccenter.com visitors express overall satisfaction with readings received on the platform. In Psychiccenter.com reviews, many of them point out the accuracy of readings and the psychic's empathetic attitude, making it easy to communicate with the selected psychic guide. Users claim that the fact you can only get a tarot reading by phone suggests that Psychic Center is aware of the importance of direct communication and helps customers establish an authentic connection with an advisor.
Another reason you should stay with PsychicCenter if you need love or career advice is the ability to create a list of favorite psychics by clicking the heart icon in the upper corner of the psychic's image. A reasonable pricing structure makes the clients come back for more readings. Still, there are users insisting that the Psychic Center website needs a filter tool added. They also point out that the less popular readers on the platform can lack consistency in providing an on-point reading.
🟢 Advantages of PsychicCenter according to users:
Accurate readings from top-rated psychics
The ability to add psychics to your list of favorites
Empathetic reading style displayed by the psychics
Tarot readings conducted by phone for more accuracy
Rates for psychics are established to fit any budget
⛔ Disadvantages of PsychicCenter according to users:
The filter tool for finding a psychic requires improvement
Some of the psychics on the platform lack consistency
How to use PsychicCenter website?
If you are ready to book a reading with a psychic advisor at Psychic Center, you will have phone and chat readings to choose from. The process of reaching out to a psychic is comparatively easy:
Go to the Psychics section on the website. If you want premium psychics for your reading, you can improve the search to include Top Rated Advisors only.
Once you have selected a psychic, you can click on their profile picture and see if they are available. You will see Call Now / Chat Now options in the psychic's profile if they are free and the Arrange Call feature if the selected psychic is busy or cannot be reached.
To improve the customer's experience when scheduling a reading, some advisors post the days and times when they are available in their profile.
If you want to arrange a call with a specific psychic, click the Arrange Call button. You will be redirected to a page that will show your place on the psychic's waiting list. You will be asked to choose how long you are ready to wait for a psychic reading before the advisor becomes available (from 1 hour to 1 month).
Those who are not sure if they made the right choice of an online psychic can scroll down the page to read customer reviews and see the psychic's overall rating. The psychic's bio page will show the number of reviews left by the customers and feature a voice introduction. Some bio pages will have an interview with the psychic to help you know them better
FAQ
Is PsychicCenter secure & confidential?
You will find no Psychic Center scam when visiting the website and getting audio recordings from psychics as they introduce themselves on the platform. Since all the psychic guides are third-party vetted and the service has a white-glove policy, you can be sure that any audio or written exchanges between you and the psychic remain discreet.
Does PsychicCenter have a refund policy?
Psychic Center customers are privileged to 3 refunds from the platform if the call with the psychic does not take longer than 5 minutes. To be eligible for a refund, you have to issue a request within 72 hours after the reading. The refund will be delivered in PsychicCenter credits.
How to find my trusted advisor on PsychicCenter?
The process of finding a trusted advisor on PsychicCenter is relatively easy. You need to visit the Psychics section of the website and filter the psychic pool so that it shows Top Rated Advisors only. From there, you can click on the psychic's image and study their background, number of reviews, 5-star rating, and field of psychic knowledge. 
Does PsychicCenter have a mobile app?
At the present moment, Psychic Center does not have an app. Still, the users can enjoy the website's main features and select the preferred psychic as they navigate the platform via browser. 
Conclusion 
Lovers of minimalism and bare essentials will appreciate Psychic Center for keeping things simple: the site is easily searchable, with no extra details that will make the process of looking for a psychic a nightmare. Although the choice of psychic advisors might be limited compared to other industry leaders, it can be regarded as a plus-point for PsychicCenter users—this way, they will never be overwhelmed with an excessive number of practitioners to choose from. 
The website features a loyalty reward program AstroRewards that consistently credits 10% of the previous month's spendings to your account. You can let your guard down as you continue to browse the psychics' profiles in search of the right one, as they all have been vetted by real users. The welcome offer of $5 for a 10-minute reading is just a small part of what Psychic Center has in store. If you are still unsure if the platform's psychics are worth your while, clicking on the advisor's profile and reading their history will help you make the right choice.