Home » Psychic Readings »

Cheap Psychic Phone Readings: Top 7 Sites To Choose Your Expert
The benefits and importance of psychic readings are not up for debate. Phone psychic services are known to give people what they need: answers to difficult life questions, closure, and insights on what to do next. However, phone psychic readings are also typically not cheap. 
Luckily, there are plenty of psychic companies that provide adequately priced readings that can even sometimes qualify for being cheap. Here is how and where to get cheap psychic readings by phone and be satisfied with the results.
Best Cheap Psychic Phone Readings Websites
To kick things off, we have prepared a list of psychic reading services that offer the best price/quality combination and provide money-saving deals to their customers.
Kasamba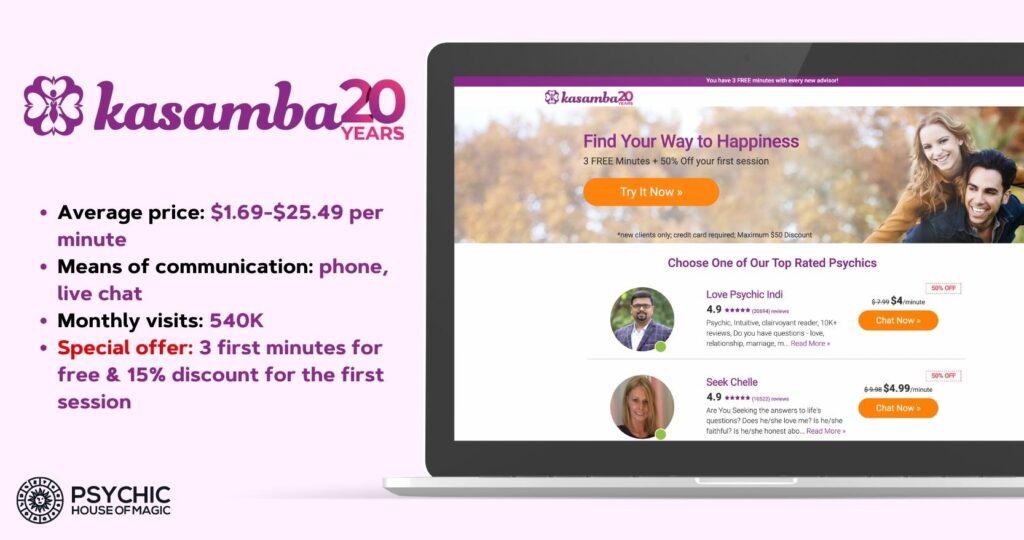 Founded: 1999
Psychics online: 60+
Communication methods: Phone, chat, email
Mobile: App for iOS and Android
Special offer: Free 3 minutes with any psychic
About
Kasamba is a psychic reading service that has been around for more than two decades and generally has a solid reputation among its customers. Kasamba offers a comprehensive variety of psychic services and provides readings primarily by phone and chat, although many of its psychics also do email readings.
Pros & cons
Pros
Wide range of psychics and specialties
Multiple communication methods available
Free articles and horoscopes
Comprehensive FAQ section
There is an option to request a refund
Cons
Video readings are not available
Refund is only available in the form of credits
Types of psychic readings
There are hundreds of psychics on Kasamba providing cheap psychic readings by phone and chat, so whatever in your life you need help with, you can find it on this website. You can filter the advisors by their key reading topics, which include:
Financial outlook
Religion
Alternatively, you can search for the psychics practicing specific spiritual tools and techniques, which include:
Prices
So does Kasamba have what it takes to be called a cheap phone psychic service? In general, yes, we found the services on Kasamba to be adequately priced. The lowest price per minute you can find there is $1.69, which is pretty affordable. There are also psychics who charge upwards of $25 per minute, but those are rare and extremely experienced.
Kasamba also has a special deal for all new customers: you can get 3 minutes of free psychic reading with any psychic you prefer. Of course, that is not enough time to get a full reading, but it's more than enough time to see if you have a good rapport with the psychic.
Bottom line
If you're looking for an affordable psychic reading website that also maintains a good quality of its services, Kasamba is one of the top sites to check out. It has been in the psychic reading business for years and has maintained a solid reputation, so that's another reason to give it a try.
Keen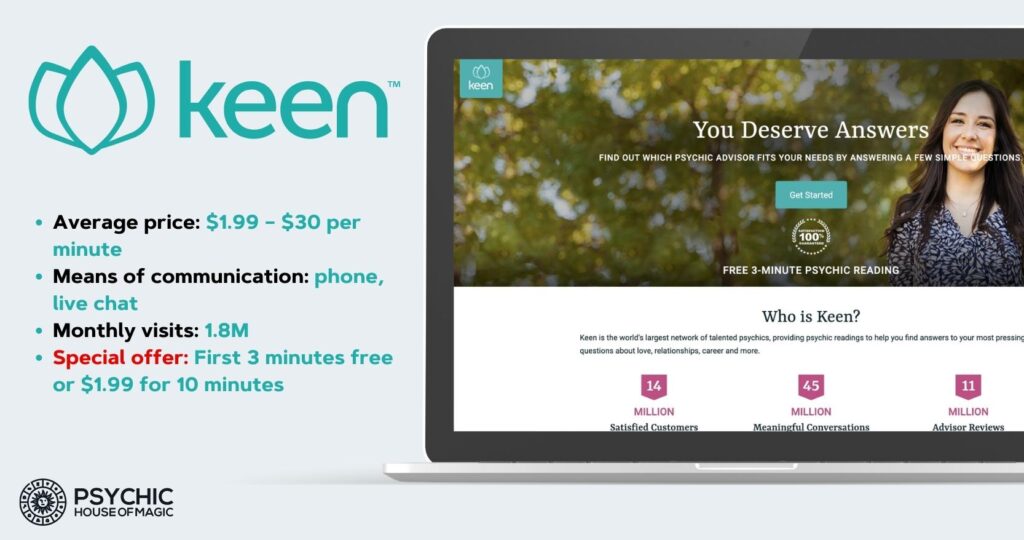 Founded: 1999
Psychics online: 40+
Communication methods: Phone, chat
Mobile: App for iOS and Android
Special offer: Free 3 minutes with any psychic
About
The history of Keen dates back to the late 1990s when it was one of the few services providing cheap psychic telephone readings. Since then, the competition in the market has increased significantly, but Keen has successfully retained its audience thanks to a combination of attractive UI, relatively cheap phone psychic services, and talented psychics.
Pros & cons
Pros
Multiple ways to discover the psychics
Over 35 million readings given so far
Free detailed horoscope and articles
Special offer for new users
Some psychics also provide email readings
Cons
Fewer psychics available than on other websites
Users sometimes report technical issues
Types of psychic readings
Keen is an all-encompassing psychic reading service that provides multiple types of spiritual assistance. Here is what you can get a reading on while using Keen:
Love and relationships
Life questions
Financial outlook
Dream interpretation
Aura cleansing
Keen psychics are also proficient in different types of psychic tools and techniques, including:
Tarot readings
Spiritual readings
Astrology readings
Numerology
Cartomancy
Prices
In general, Keen is a moderately priced psychic reading service, although you can also get cheap psychic phone readings here in two ways. One is to go for the lowest-priced psychics who charge as little as $1.99 per minute. 
The other one is to opt for the special deal, allowing you to talk to any psychic for up to 3 minutes for free. This can be a great opportunity to see if a particular psychic can actually deliver the insights you are looking for or if you should try another service.
Bottom line
Keen has been a popular psychic reading service for over 20 years, and after taking a closer look at it, we can see why. It may not be the biggest one in terms of the number of psychics, but it has everything it takes to create a satisfying psychic reading experience, including reasonable prices, experienced psychics, and a pleasant design.
Mysticsense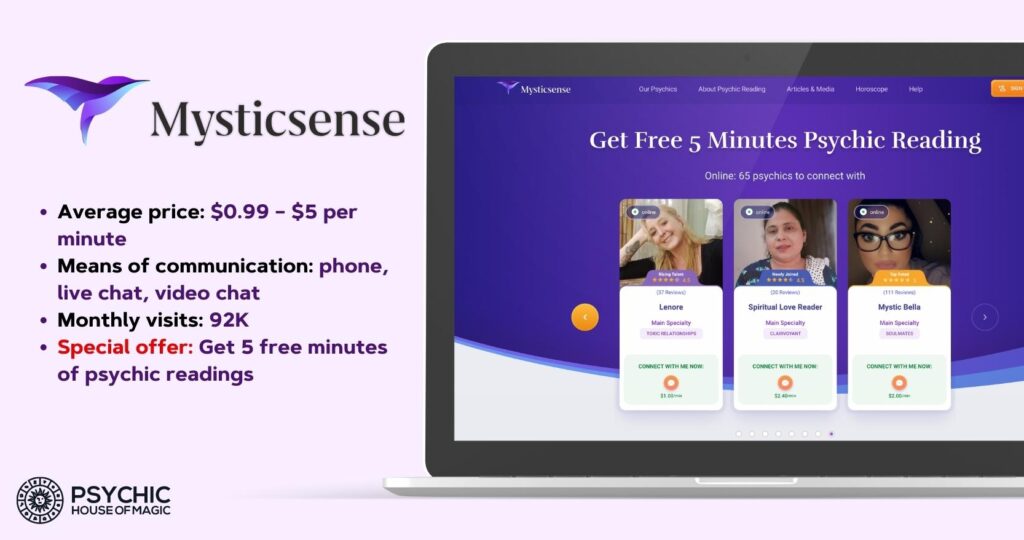 Founded: 2020
Psychics online: 50+
Communication methods: Phone, chat, video
Mobile: Browser version only
Special offer: Free 5 minutes with any psychic
About
Mysticsense is one of the newcomers in the world of spiritual readings, but it has already made a name for itself as a place where cheap psychic mediums deliver accurate readings. The popularity of Mysticsense is continuing to grow, and part of its success can definitely be attributed to the overall low prices offered by the service.
Pros & cons
Pros
Both experienced and new but highly rated psychics
Free horoscopes and articles are instantly accessible
Psychics have detailed profiles with ratings
Video readings are available by some psychics
5 minutes of free readings for new members
Cons
No mobile apps available
You need to deposit money to get a free reading
Types of psychic readings
Mysticsense works with a wide range of psychics, and while not all of them are obviously available at all times, you can typically log into the site and find just the right psychic for your situation. The variety of available psychic tools and techniques includes:
Astrology
Cartomancy
Crystal ball
Dream interpretation
Tarot cards
Past lives interpretation
Numerology
The Mysticsense psychics also specialize in a variety of spiritual topics, including:
Love, relationships and soulmates
Family issues
Career and money
Life path and destiny
Lost objects
Pet psychics
Grief counseling
Prices
Mysticsense is definitely one of the contenders for the title of a good but cheap psychic phone reading, as it offers the lowest minimum price for a reading out of all services we are reviewing today. Readings there start at just $0.99 for chat readings, and the most expensive psychics we could find charge $9.99 per minute of video readings.
Like other psychic reading websites, Mysticsense has an introductory deal for new members. However, unlike other sites, it offers 5, not 3 minutes of free readings. But there is a catch — you need to deposit a minimum of $10 into your account to qualify for the offer.
Bottom line
If you don't have a lot of experience with spiritual advisors and are looking for an inexpensive psychic reading service, Mysticsense may be exactly what you're looking for. With affordable prices, multiple communication channels, and a variety of psychics with different specialties, this site is the one to try.
California Psychics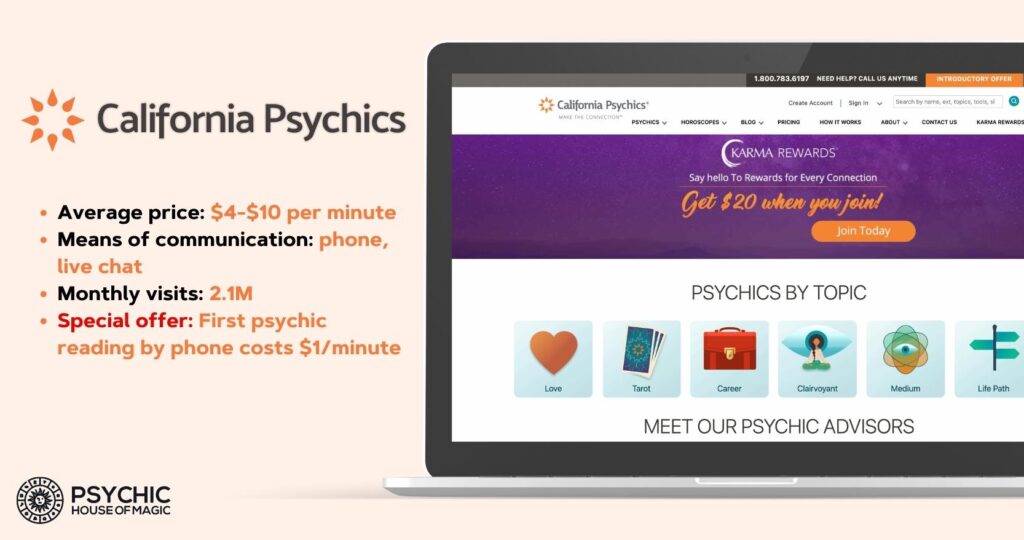 Founded: 1995
Psychics online: 40+
Communication methods: Phone, chat
Mobile: App for iOS and Android
Special offer: First reading starts at $1 per minute
About
California Psychics is the oldest psychic reading service on our list, but you would never guess it from the site's contemporary interface and availability of mobile apps. Many of the psychics working for the service have been providing psychic readings for more than a decade, and some have been in the business for more than two.
Pros & cons
Pros
Huge range of psychic tools, topics, and styles
Clear schedules for each psychic
Attractive introductory offer for new customers
Very detailed psychic profiles with ratings
Free articles and guides available
Cons
Difficult refund requesting procedure
Not a lot of psychics available at all times
Types of psychic readings
California Psychics has one of the biggest, if not the biggest, varieties of psychic services we have ever seen from cheap psychics by phone or chat. There are several ways to browse the psychics, including by psychic abilities:
Mediumship
Channeling
Remote viewing
Dream analysis
Clairvoyance
Automatic writing
Empathy
You can also browse the psychics by the psychic tools they use:
Tarot cards
Crystals
Runes
Oracle cards
Astrology
Numerology
Pendulum
Finally, you can search the psychics based on the topics they cover in their readings:
Love
Life path
Career
Money
Pets
Past life
Lost objects
Prices
Although California Psychics is not exactly known for having psychic cheap services, the readings on this site are not overly expensive either. The lowest price per minute is $4, which is higher than on many other websites, but the highest is $15, which is lower than what many sites have to offer.
There is also an introductory offer: every new customer can get their first 20-minute reading session for $1, $2, or $4 per minute, depending on the psychic's normal price and experience. California Psychics also has a Karma Rewards system of perks and bonuses for existing members.
Bottom line
With vast spiritual experience possessed by most California Psychics advisors, an endless selection of tools, areas of expertise, and styles, and an opportunity to get your first reading for just $20, this website is a good place for finding answers to the questions that have been bothering you for a long time.
AskNow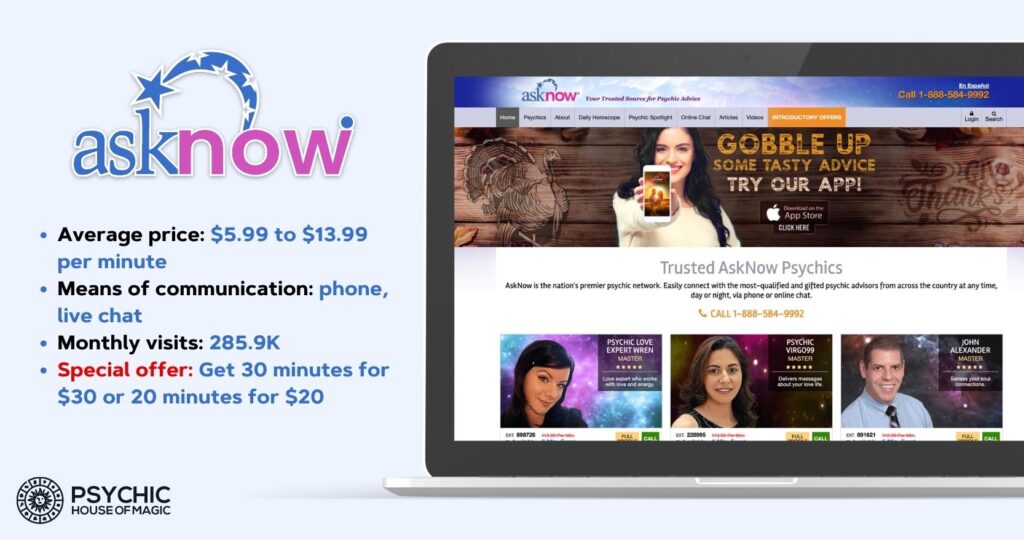 Founded: 2005
Psychics online: 30+
Communication methods: Phone, chat
Mobile: iOS app only
Special offer: First session is $1 per minute
About
AskNow is almost two decades old and was primarily launched as a phone psychic reading service, although later, chat readings were also added to the mix. You may find that there are fewer available psychics on AskNow than on other platforms, and that may be due to the rigorous selection process the advisors undergo to join the website.
Pros & cons
Pros
Very detailed profiles of the psychics
You can schedule calls with your favorite experts
New free articles and videos regularly added
Satisfaction guaranteed for up to 5 minutes
Readings in Spanish are available
Cons
Mobile app for Android is not available
Fewer psychics online compared to other services
Types of psychic readings
On AskNow, you can browse the available psychics by different parameters, including whether they are online or offline. The most popular psychic topics include:
Love & Relationships
Career & Goals
Money & Finance
Past lives
The list of psychic tools used by the AskNow experts includes:
Tarot cards
Numerology
Astrology
Dream analysis
Prices
When it comes to the regular prices, AskNow is not the cheapest psychic reading service out there, as its psychics charge at least $5.99 per minute of readings, and the highest price is $13.99 per minute.
However, AskNow has a very attractive introductory offer that allows you to get 20 or 30 minutes as a first-time user for $1 per minute. In addition to that, you will get 5 minutes with one of the site's highest-rated psychics.
Bottom line
AskNow has a unique selection of psychics, many of whom have spent over two decades providing psychic readings. So while this service is not the cheapest one and doesn't have the biggest selection of topics and tools, it can be an excellent website when you need a psychic with a fresh perspective.
Oranum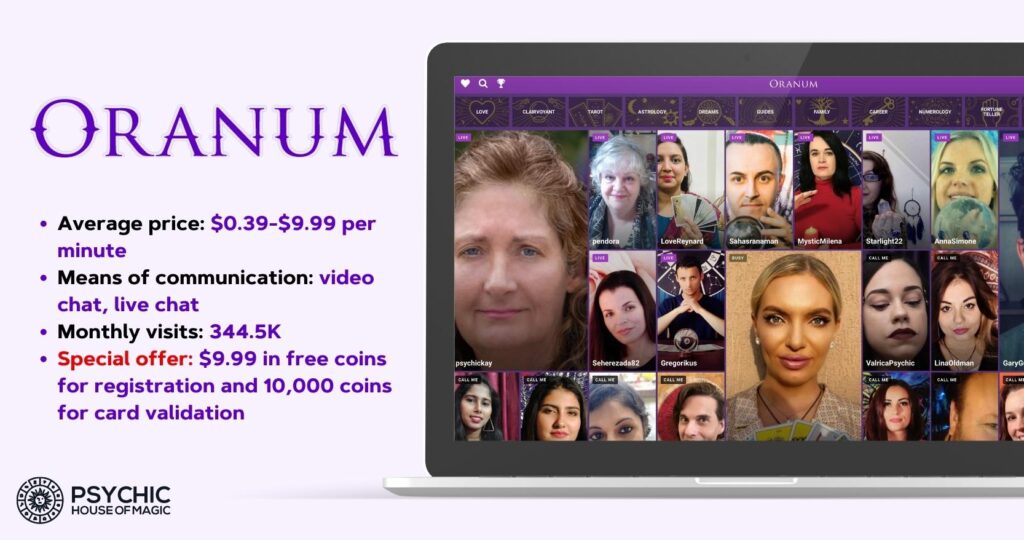 Founded: 2013
Psychics online: 100+
Communication methods: Phone, chat, video
Mobile: App for iOS and Android
Special offer: Free 10,000 coins
About
Oranum is probably one of the most unique psychic reading services: in addition to the traditional phone and chat psychic readings that you can get everywhere, this service also offers free live video readings that are available even to guests. And if you like the psychic's style, you can arrange a private reading session in no time.
Pros & cons
Pros
The biggest number of psychics online out of all services
Wide range of psychic services
Plenty of opportunities to interact with the psychics
The psychics have very in-depth and informative profiles
Mobile readings are also available
Cons
The coin system can get confusing
Refund information is not listed on the site
Types of psychic readings
The Oranum psychics have many specialties that you can find out about when you visit their profiles or talk to them one on one. The most popular psychic readings available on Oranum include:
Tarot card reading
Astrology
Love readings
Dream analysis
Pet psychics
Numerology
Fortune telling
Prices
There are plenty of things you can do for free on Oranum, including watching free public broadcasts regularly performed by the psychics. For everything else, you will need to buy in-site currency called coins. Psychics are free to set their own rates. You can also tip the psychics during the live videos to show your appreciation. As a new member, you will get $9.99 in credits to spend however you want.
Bottom line
Oranum is a unique enough psychic reading service that every spiritual person needs to try at least once. It may not be the best phone psychic website because chat and video readings are more of its specialty, but it can help you spend a very entertaining time and get some revelations in the process.
Nebula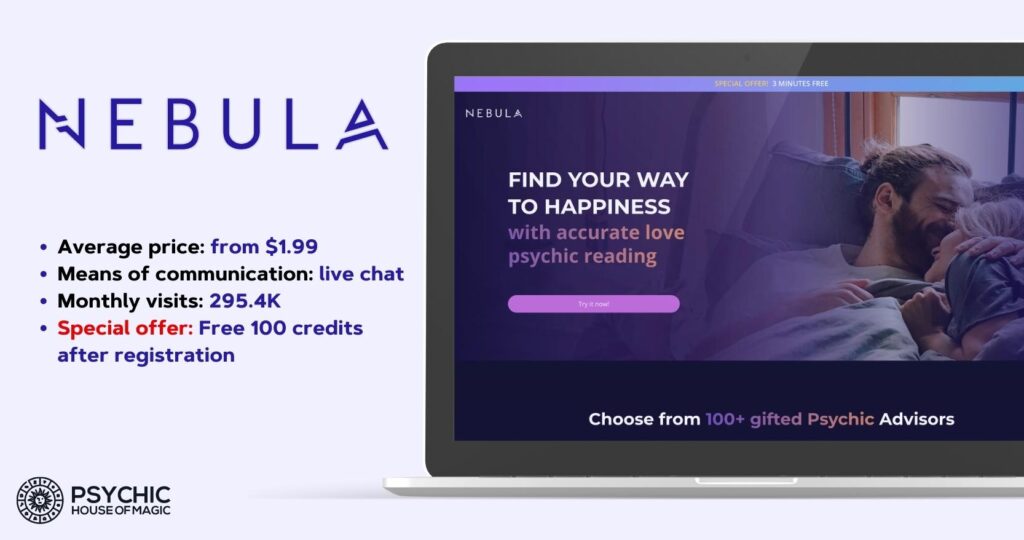 Founded: 2019
Psychics online: 30+
Communication methods: Chat
Mobile: App for iOS and Android
Special offer: Free 100 credits
About
Nebula is one of the newest psychic reading services out there, but it has already attracted a large online following thanks to its highly popular mobile applications. Nebula is also available in a web browser version, so wherever you are and whenever you want to get a psychic reading, this site is at your service. Keep in mind that Nebula only offers chat readings, and no phone readings are available at the time.
Pros & cons
Pros
Very detailed psychic profiles
Comprehensive selection of filters for finding a psychic
Clear system of credits
Free horoscope and other content available
Just a couple of steps are needed to get a reading
Cons
Only chat readings are available
All psychics are priced the same
Types of psychic readings
We were deeply impressed by the variety of psychic services offered by Nebula. Here are just a few of the things the Nebula psychics can work with:
Tarot reading
Love and relationships
Clairvoyance
Mediumship
Crystal ball reading
Pendulum reading
Spellcasting
Prices
Nebula uses a credit system for its paid services and has one of the most unusual pricing systems for psychic readings we have ever seen: all psychics there cost the same, 30 credits per minute. On one hand, it makes things more convenient, but on the other hand, it means you cannot choose a more expensive or cheaper psychic when you feel like it.
Nebula has a one-time offer for all new customers: after registration, you will get 100 credits added automatically to your account. This can give you exactly 3 minutes of chat with any psychic.
Bottom line
Nebula is a comprehensive psychic reading service with a clear pricing system and dozens of experienced psychics. If you are looking for an alternative to traditional phone readings, then doing it via live chat on Nebula may be right up your street.
What is a cheap psychic reading by phone?
Psychic readings mean spiritual practices used by people to predict the future or uncover the mysteries of the present and past. People who perform accurate psychic readings exploit special psychic tools and heightened perceptive abilities. While average people can use only basic human senses to perceive this world, like senses of sound, sight, taste, and touch, psychic experts have extended versions of these abilities. For example, clairvoyants can see things that other people cannot. It means they can see the images of the future or the past.
Psychic advisors organize consultations of different types. The type depends on a reading style, reading tools, and communication means. Also, the price defines the type of psychic session. Thus, you can find paid or free psychic readings via chat, phone, and video. 
A cheap psychic reading by phone is exactly like a regular psychic reading, only a much more affordable one. The low price of the service does not mean you should expect a low-quality of reading — in fact, the most expensive psychics are not always the most accurate ones. 
You can typically find low-priced psychic readings on websites that have not been in the business for too long, are determined to attract new customers, or simply manage to keep their prices affordable by optimizing their expenses: for example, by not having a physical location where you can come and talk to the psychics.
Cheap readings can become a solution to the most troubling issues you may face in your life. Thus, such online psychics can help resolve problems in love & relationship, career & money, life path & spiritual growth, etc. The best psychic readers via the telephone can also help you contact beloved ones who passed away.
Cheap phone psychics are a brilliant choice if you perceive information better by ear than via text. Trustworthy call talented psychic readers make sure to provide a clear and well-structured answer.
The advantages of getting a psychic reading by phone
For many years, people used to visit physical psychic offices whenever they wanted to learn a thing or two about their current or future situation. Luckily, now there are thousands of phone psychics who are ready to assist you even in the most sensitive matters. Here are the key advantages of psychic readings by phone over in-person or chat readings.
They are available everywhere. Whether you want to get a reading while at home, on vacation, or anywhere where you can talk on the phone, you can do so with popular phone psychic reading services without going anywhere.
You can get them 24/7. Most psychic reading services employ psychics from different parts of the world, which is why every time you visit the site, there are plenty of advisors you can call. In-person psychic reading locations usually work only within the usual business hours.
They are more private. While talking to a phone psychic, you can be as anonymous as you want and the psychic won't be able to see you or know more about you than you choose to share. With in-person readings, there is always a risk of someone you know seeing you there, or the psychic sharing your sensitive information with another person.
They are more affordable. There are so many phone reading services now that they will go to great lengths to set the most attractive prices and appeal to customers. In-person psychics typically work under little to no competition and are therefore not exactly compelled to make their prices lower.
They are more personable than chat readings. Phone readings allow both you and the psychic to be more present for the session, hear the possible changes in each other's tone of voice and inflection, and react quicker than you can while chatting.
Cheap psychics by phone vs. online chat readings
Online psychic readings conducted via phone and online chat differ in many aspects, although both types can guarantee accurate predictions. Moreover, it's possible to find both call and chat cheap psychics online. We are going to discuss the positive and negative features of these online spiritual reading types.
First of all, cheap psychics via telephone are more trustworthy than online psychic readers who hold sessions through online chat. While talking to a psychic reader, you can at least make sure it's a real person. Also, there are more chances that your keen psychic is the same person you selected on an online psychic reading site. However, reliable websites can guarantee real experts both via chat and phone. But if you want to be 100% sure, choose phone advisors.
 It's worth mentioning that when you talk to cheap psychics via phone, you can define whether they are not busy doing other things while talking to you.
Although cheap psychic readings via chat also provide quick replies from your psychic reader, still, they are not as quick as telephone online psychics. Besides, the time your psychic reader spends typing the answer will cost you money, while online psychic readings can prevent you from this.
However, it's no secret that psychic readings via the telephone can lead to lengthy back-and-forth conversations that also take minutes. Online psychic chat readings let you avoid it.
Both phone and chat sessions are affordable psychic readings. There are numerous cheap psychics who will provide in-depth insights into your troubling question. Usually, online psychic websites set similar fees for both communication types. The average per-minute rate is approximately $6. Besides, you can also get a free psychic reading via text or call. However, some online psychic reading platforms give free minutes only for chat psychic consultations.
While video psychic advisors are not that widespread on online psychic reading sites and are usually expensive, cheap psychics via chat and telephone can be ordered at almost any spiritual platform. Thus, you increase your chances of finding the right expert quickly by choosing a telephone session. It is especially crucial if the solution to your problem requires urgent help.
Different types of psychic phone readings
Cheap psychic readings via phone calls are divided into different types that depend on the tools, life sphere, and reading style the best cheap psychics exploit.
Firstly, we will talk about life spheres.
Cheap love psychic readings. People usually address psychic websites to resolve their romantic issues: affairs, break-ups, finding a soulmate, etc. – cheap readings via phone can come in handy.
Online psychic reading on career and finances. Money and job issues won't seem a "mission impossible" type of problem if you approach cheap psychics.
Spiritual healing and finding a life path. The best cheap psychics online will help you re-discover your inner world. A skilled psychic reader can change your life tremendously by defining your potential talents.
Now, let's discuss reading tools spiritual experts use for cheap psychic readings via telephone. The list of these tools is extensive, actually. But we will mention the most popular reading types psychic readers exploit.
Clairvoyant readings. Online psychics gifted with clairvoyance powers can hear and see things others cannot. Thus, your psychic reader can predict your future in such a way.
Astrology readings. The best psychic readings in astrology imply that your phone advisor will need your birth chart to see how cosmic objects define your past, present, and future.
Tarot card readings. Cheap tarot readings are also an excellent way to learn your destiny. An online psychic expert will interpret the meaning of tarot cards to answer your burning questions. Although tarot readings are not the same as psychic readings online because even average people can do this divination practice, still, a professional psychic reader will use this tool wisely.
Psychic medium services. Psychic mediums exploit their inner powers to learn the message your lost beloved ones want to tell you. Psychic websites often have in their catalogs this type of spiritual assistance.
Numerology readings. You can also encounter a psychic reader who specializes in numbers to define your future. Professional psychic readers will need only your exact day of birth and name to tell your destiny and life path.
Pay attention to reading styles on the profiles of potential psychic readers. The best cheap psychics online may convey the message from the Universe and higher spirits in different ways. Thus, psychic readers usually offer such reading styles:
Direct. Online psychics who resort to this reading style will give you a straightforward answer. However, keep in mind that such a reply may seem rude.
Compassionate. You can also find compassion by addressing the best psychic reading sites. If you need warm and supportive advice, compassionate online psychics will be like a godsend.
Thoughtful. The best psychic readings can be conducted in a thoughtful way, promising you an in-depth answer.
Expressive. Expressive cheap online psychics may be too emotional sometimes, but if it works for you, feel free to select this option.
Wise. Online psychics with a wise reading style offer sessions which will look like listening to wizards who know everything. It doesn't mean it is hilarious. Such readings will fit you excellently if you like them.
How we choose the best phone psychic reading sites
Over the course of using psychic reading services ourselves and running a website where we review those services, we have developed a system of metrics that allows us to determine whether the site is actually good. Here are the things to consider when looking for cheap psychics by phone that we also use in our phone psychic readings reviews:
Number and quality of the psychics

When the site only has a dozen psychics available at all times, you don't have much to choose from when looking for an advisor. We also check the qualifications and experience of the psychics.

Variety of services

Good psychic reading companies always provide a wide range of services simply because they work with a very diverse group of advisors.

Years in business

Of course, a psychic reading company can be one or two years old and already have a strong positive reputation, but typically, companies that have been in the market for over a decade, deliver steadily good results.

Prices

The prices set by a psychic reading service have to be clearly explained. If there is a special offer, the conditions for using it should also be clearly listed on the site. We also make sure to compare the prices against the market average.

Customer support and satisfaction guarantee

In case a customer is not happy with the service they've received, it's important for the site to have an easily accessible customer support system and a customer satisfaction policy.
Final thoughts
There are plenty of things you can learn during a good psychic reading. Most importantly, you can get a sense of direction and resolve the doubts that have been plaguing your life for years. For many people, talking to their favorite advisor becomes a regular habit. And with our list of affordable phone psychic reading services and the availability of special offers, you also can consult phone psychics as often as you want without breaking the bank.
FAQ
Are cheap psychic readings as good as expensive ones?
Yes, and we'll tell you exactly why. You can enjoy cheap psychic readings by phone as much as more expensive ones because psychic reading websites face a lot of competition in the market. In an effort to win over as many loyal customers as possible, they will offer competitive rates for high-quality readings. This is why cheap psychic telephone readings are in no way less informative than pricey psychic services.
How do cheap phone psychic readings work?
In essence, cheap psychic phone readings are not different from regular psychic readings. You start by picking the psychic whose profile speaks to you and calling the direct line or arranging a call in case the psychic is not available. Then you describe your situation to the psychic and carefully listen to what they say. You may ask follow-up questions if you want to get more clarity about one or more issues in particular.
When should you call a cheap psychic hotline for guidance?
There isn't really a right or wrong time to talk to cheap phone psychics. The most common situation when people consult cheap psychic readers is when they are facing a difficult decision and cannot find the answer on their own. However, even when you are not about to take a life-changing step, you can still benefit from a psychic reading session that can tell you more about your past, present, and future than you could ever learn yourself.
What to avoid during a telephone psychic reading?
The most common rule during an expensive or cheap psychic phone reading is not to interrupt the psychic, as that may disrupt their connection to the higher powers and therefore make the reading less effective. Before the session, you should also carefully read the psychic's profile to find out which topics they will not discuss. For example, some cheap psychic readers refuse to deal with lottery tickets or gambling.
Is it possible to get a $1 psychic reading?
Yes, there are plenty of $1 psychic readings available. You can typically score a one-time special offer for $1 per minute on some psychic reading websites. That being said, some sites, such as Mysticsense, have even more affordable prices, as readings there start at just $0.99 per minute without any special offers.
Are affordable phone psychic readings trustworthy?
Yes, many of the top psychic hotlines are also pretty affordable and can be even cheaper with the use of special offers and promotions. However, getting a positive experience out of a cheap psychic phone reading is only possible when you are using a trusted psychic website recommended by a reliable source.
Which psychic reading is best — online psychic chat, call, or video?
There's not really an answer to this question that will satisfy everyone, as you can only find your preferred method until you try all three. Generally, psychic phone hotlines are the most popular option because they facilitate a stronger connection with the psychic while maintaining a level of anonymity for the customer.
How much does a psychic reading cost?
The cost of online psychic readings depends on the communication means and reading tools. Usually, an average one-minute consultation with a psychic advisor costs $6, while a session itself may last from 20 to 80 minutes. You can enjoy affordable online psychic readings by using special deals and discounts available on online psychic sites. Cheap psychics, with a $1-$2/minute rate, can also conduct accurate online readings.
When should you call a psychic hotline for guidance?
It's worth ordering online psychic meetings when you are stuck in an exhausting situation caused by various life problems. Online psychic reading services can come in handy when you want to make sure you make the right decision. Also, a psychic reader can help you heal after a devastating experience like a break-up, a death of a beloved one, etc.
How much do telephone psychics charge per minute?
The cost of online psychic reading services via phone is defined by the experience and skills of an expert. Usually, such online readers set a $5-$10/minute pricing requirement. However, you can find accurate psychics for $1/ minute.

Dan Allender is a psychologist and astrology and psychics expert.
He is the founder of The Allender Center and The Seattle School of Theology & Psychology, which prepared mental health professionals and helped hundreds of lives to heal their traumas.
Now Dan is working as a spiritual specialist at PsychicHouseOfMagic.