Home »

Aura
What do phrases like 'You have a bad aura' mean? How do aura colors impact our lives and represent our personalities? And what is an aura, actually? Any person slightly interested in psychic readings and spiritual development has faced similar questions. If you are also such a person, read our article below!
What Is an Aura? — Aura Definition & Meaning
Aura is a colored atmosphere, an emanation surrounding objects, animals, and humans. This luminous body is sometimes called an electromagnetic field, which represents the vibrations radiated by the object. In the case of human beings, these vibrations are created by our mindset, thoughts, and physical and mental states.
There are seven primary aura colors. But their shades create other aura variations. What do different aura colors mean? An aura color meaning will depend on a specific shade the energy field, aka aura, possesses. Usually, a bright shade that is much close to the original color means that a person has the best features such an aura may possess. While dark or muddy tones can point at a spiritual crisis and other inner problems symbolizing also the domination of negative characteristics of the aura color.
The Seven Layers of the Aura
What do aura colors mean? They represent aura layers with their energy centers called chakras.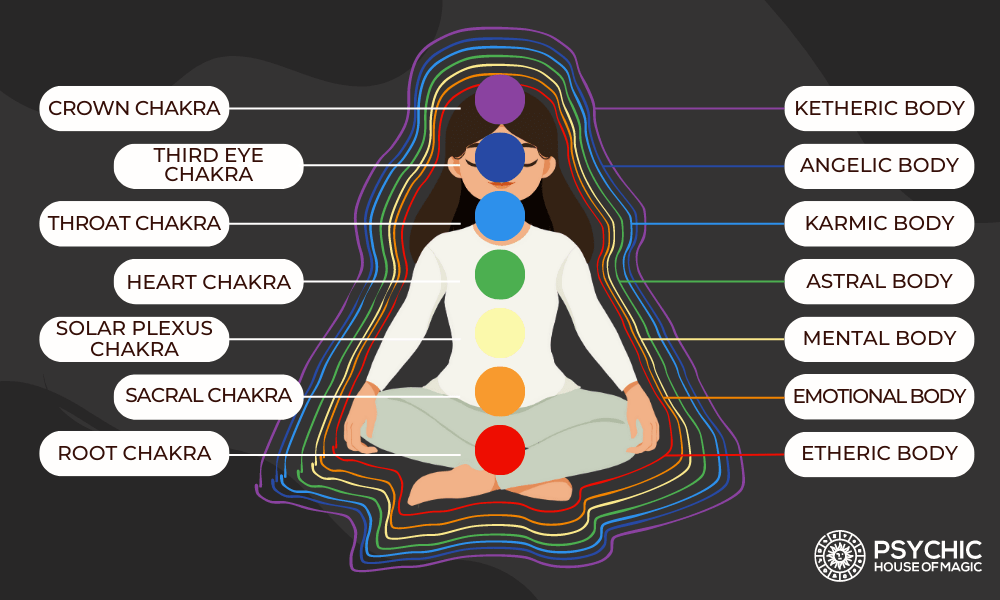 The first layer, or the Etheric body, is connected to the Root chakra. It has a deep red color and represents our physical life.

The second layer, the Emotional body, is connected to the sacral energy center. This layer is orange and responsible for feelings and emotions. 

The third layer, the Mental body, has a yellow-colored Solar Plexus chakra which shows our mindset and beliefs. 

The fourth layer, the Astral body, is connected with the green Heart chakra, which represents compassion and love. 

The fifth layer, the Karmic body, has its center in the throat chakra. This sky-blue layer stores our soul's mission. 

The sixth layer, the Angelic body, is indigo-colored. With the Third Eye chakra in its center, this layer shows our higher self and intuition. 

The last seventh layer, the Ketheric body, is connected to violet, the Crown chakra, which represents our ability to channel with higher spirits. 
If a person has a balanced life and mindset, all chakras function harmoniously, with one dominant chakra that defines the personality. But, it happens that one chakra or several chakras are blocked. It means you need to pay attention to the area of life for which the blocked chakra is responsible.
How to See and Read Auras?
How to see auras? Aura energy colors aren't visible to the naked eye. And although in the pictures on the Internet, the aura looks like a rainbow surrounding the human body, in reality, you are unlikely to be able to see a human energy field quickly.
However, some people have special spiritual abilities that allow them to use their feelings at the highest level. These people include psychics. There are tarot specialists, numerology advisors, and astrology experts. And there are aura readers who help with many aura-related issues, such as cleansing, healing, determining its color, and explaining its characteristics.
And although the services of professional online aura readers are not free, they are still much more affordable than the services of traditional advisers. Experienced readers know how to read and see auras and can help you with this. Such a service is worth your investment because knowing your aura color assists in your self-discovery journey. You will get a better understanding of your strengths and weaknesses and find out the reasons for specific inner shifts happening. 
But where to seek a specialist to find your aura color meaning? Go online and check verified platforms with professional human auras readers. If you are out of time to look for such a website, you can look through the list of reading sites we prepared for you. With their assistance, you will learn your aura color meaning and find ways to take advantage of the received knowledge.
Meaning of Different Aura Colors
"What does the color of your aura mean?" — If you wish to learn the answer to this question, you should check the brief explanations of aura colors below.
Red

Red aura means a strong sense of purpose, courage, and passion. Red-aura individuals are often prominent leaders because they clearly know what they want. The red color in the aura describes an analytical mindset and a grounded-like attitude to life. In many ways, such people are fearless. 
However, red-aura folks have a tendency towards anger issues and overcontrolling since they like showing their power. 
Orange

Orange-aura individuals are action-oriented personalities. They have intense energy and inner power, as well as creative abilities. 
However, their desire for a fast-moving life makes them struggle to compromise in arguments. Also, although these folk like taking charge, they tend to burn out quicker than others. But in general, they are very adventurous personalities with high intelligence.
Yellow

Cheerfulness, brightness, and happiness are features that describe yellow-aura individuals. These people lighten the mood and radiate confidence. Besides, these folks are very motivating and positive. 
However, the darker yellow shade may indicate they are hyperactive or scattered. In addition, because of their positivity, yellow-aura individuals often become victims of energy vampires who drain their sources.
Green 

Green aura, tied to the Heart сhakra, is connected with healing and health. People with a green aura have a strong sense of forgiveness, love, and compassion. Such individuals find it crucial to feel a connection with other people. 
If you have a green aura, most likely, your intuition is on a high level. In addition, green-aura folks are curious personalities who also seek harmony. However, these people face such challenges as jealousy, insecurity, and limiting themselves.
Blue

Blue aura is often connected with serenity and balance. Such people with activated Throat chakra have considerable self-expression and communication skills. In addition, they possess intuitive and creative energies, as well as a stable and calm nature, which makes them loyal partners.
Unfortunately, blue-aura folks also face several challenges. Thus, for example, blue-aura individuals may be dogmatic sometimes, although they are assertive and action-orientated.
Indigo

If your aura is indigo, it's very likely you have a high self-awareness level, as well as an understanding of other people and the world. Indigo-aura individuals are great empaths with creative minds. It makes others often call them wise beyond their years. 
Indigo is a mystical color aura since it's tied with the Third Eye chakra, which makes this folk spiritually developed personalities. However, these people often have problems with pessimism and overthinking.
Purple

The purple color of your aura indicates that your Crown chakra is activated. Individuals with this energy field possess great spiritual powers. They have a deep level of intuition and read others' emotions. These people manifest kindness and sensitivity. 
However, such individuals often struggle with setting and maintaining boundaries which affect their relationships. Their aspiration to help others solve their problems can drain them emotionally.
Pink

A pink aura is a shade of red aura. People with this aura are as passionate as red-aura individuals. However, they are less possessive and assertive. Pink aura symbolizes romantic nature and sensitivity. This colored emanation is associated with feminine energy. That's why pink aura is very common among women.
Bright pink may indicate that you have a balanced inner world that is based on love. However, muddy shade can mean you are childish and lost, which makes others think you are immature. 
Silver 

Silver is a rare color for auras. Silver-aura individuals are spiritually enlightened, having an intense connection with higher spirits. People with this aura are disciplined and have a strong sense of stillness. 
Having such gifts, they are still humble personalities who don't boast about their success. However, these people often lack decisiveness and optimistic thinking.
Brown 

Brown-aura folks are often analytical and practical people who are great at solving problems. They are grounded personalities who perceive this world on a physical, material level. However, the brown-colored aura can indicate that you are too stubborn or judgmental.
Besides, these people are not the best partners because they are not very romantic and open personalities.
Black 

Some people confuse a black aura with a dark aura. While a dark aura is a sign of evil spirits ruling your life, the black aura is a unique color, which means that you may be going through times of grief or disbelief. Low soul vibrations caused by excruciatingly hard experience is the most common reason for the aura turning black.
White

It's a fascinating and rare phenomenon to see when a person has a white aura. These people are pure souls with a high level of spirituality, which is why newborns often have such an energy field. They radiate generosity, innocence, and self-consciousness. White-aura folks often possess a pearl of great wisdom. However, they may be too naïve sometimes.
What do different auras mean? Now, you can freely answer this question. But can your aura color change, or we are doomed to have our aura colors forever? Aura is the representation of your inner world and mindset. 
People usually change their attitudes toward the world throughout their lives, so their auras change. That's why children often have white auras. But life circumstances and challenges build their characters and, thus, change their aura colors. That's why, if you don't like having a muddy or dark aura, you can always change it. Taking action is the key to this.
How to Interpret Your Aura
If you wish to learn how to read auras, here are several reading techniques.
The first method: 
Stand in front of the mirror. The background behind you must be white or neutral. 

Concentrate on your head and neck. 

Once you start seeing the halo over your head, try to define its color and shade. 
How to know what your aura is if you don't have a big mirror? There is another way: 
Hold out your hand, with a white or neutral background behind it. 

Focus on your fingers until you start seeing the surrounding emanation. 

Define the dominating color and shade of this emanation.
You may not be able to do it the first time. But if you keep practicing, you may reach success.  
How to understand what your aura means? There are plenty of online sources with decent explanations of every aura color and shade. You can read through them or check this info on our site. 
The most vital thing in aura reading is to note changes in your aura color. They can give the understanding of inner shifts which you may not notice but which affect your well-being in a good or bad way. If you master the skill of aura reading, screen your aura color from time to time. Or you can address professional aura advisors for their expertise.
How to Cleanse and Protect Your Aura
Techniques for cleansing your aura:
 Be closer to nature — walk in the rain, go to the forest 

 Try daily mantras and affirmations

 Take an aura cleansing bath or try sage smudging
You may be satisfied with your spiritual aura color and simply wish to preserve its state. How to do it? There are several methods of protecting your energy field:
 Work on loving yourself and your imperfections

 Use crystals and stones for protection

 Try meditations and different self-awareness practices

 Avoid people and things which you feel negatively affect your aura
We also recommend practicing these karma cleansing techniques, which also help protect your aura.
Conclusion
Now, as you have learned about layers of the aura and how to find your aura color, we hope you will be able to discover the inner strength to implement this knowledge in real life. Knowing techniques and general info about your energy field is not enough. You need to believe that you can change yourself and exploit for your benefit the details you learn about your aura. 
Take the quiz to find the best psychic reader especially for you
Quiz