Home » Reviews »

Kasamba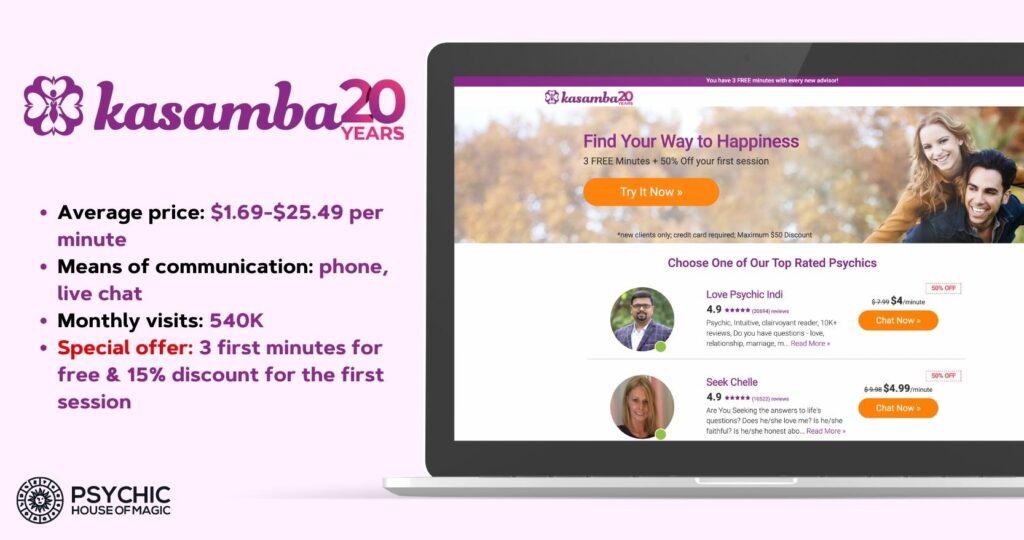 Kasamba entered the industry over 20 years ago and boasts a large number of psychics to choose from. Thanks to its thorough recruitment process, the site's experts provide personalized and trustworthy readings, which is why it has a good reputation in the industry and keeps attracting new users. 
Despite having prices that are higher compared to similar sites, Kasamba offers special deals that improve the overall experience. For example, its clients get 3 minutes of a call for free and 15$ off of the first session, which is a bargain. 
The site received 4,2 stars on TrustPilot based on the reviews of 687 customers, which tells a lot about its popularity and the quality of the delivered services. It offers psychic readings, tarot readings, and much more with top-of-the-league experts. 
Kasamba's main features—All perks to know
Most Kasamba reviews point out that the platform has many features to choose from, and these are some of the options you can find there:
Various readings to choose from. From love & relationship reading to New Age spirituality — you will certainly find an expert who fulfills all your goals.
Multiple means of communication. You can get in touch with a particular psychic advisor via phone, chat, or email. Keep in mind that the prices for email sessions may vary from the rates for chats and phone calls.
Satisfaction guarantee. If for some reason, you aren't satisfied with the session, you can claim a satisfaction guarantee. Just contact a customer support team and they will quickly help you with all your questions and concerns.
Appealing offers for newly registered users. Each newcomer can enjoy the opportunity to talk to an expert for 3 minutes absolutely free of charge. Moreover, it is possible to get 15% off for the first session.
Psychics with different experiences and specializations. Depending on your intentions and financial possibilities, you can find Kasamba psychics of any experience and specialty.
Mobile app is available both for iOS and Android. If you are all about chatting on the move, feel free to download a dedicated Kasamba app. Therefore, you can quickly get psychic advice while on the move.
Easy to find a psychic for your needs. With the well-elaborated searching options, you can quickly find a specialist that works for you. Also, it is possible to search by price.
Useful articles. If you want to plunge deeper into the world of Kasamba psychic line, feel free to read articles dedicated to different spiritual practices and helpful advice on how to find the right specialist.
Notify me. If a particular specialist isn't online, just click the Notify Me button and get in touch as soon as a psychic advisor appears online.
Types of readings on Kasamba
You can get Kasamba psychic readings depending on what you're looking for because the site has a slew of categories to choose from. These include love, relationship, and tarot card readings, as well as fortune telling and astrology. Also, you can select an approach based on your preferences. For example, you can schedule a call if you want to have a more personalized experience. And if you prefer taking things slowly, you can opt for email or chats.   
As for the readings Kasamba psychics provide, these include:
Love and relationship readings. The site boasts over 250+ specialists in this niche who can help you in different aspects of your love life. So, be it compatibility with your partner, help in finding a soulmate, or getting insights about your love, you can get all this on Kasamba.

Tarot card readings. These allow gaining clarity on life and seeing new opportunities. The site has over 180 Tarot card readers who can help you get your personal life on a new level.

Astrology readings. Sometimes, the stars are the only ones who can give you the answers, so professional astrologers will eagerly help you understand what they're saying.

Dream analysis. When our subconsciousness is trying to tell us something, we see dreams, but it's hard to understand what exactly certain things mean. That's when over 100 dream analysts from Kasamba stepped into the game.

Career forecasts. If you're willing to boost your career but don't know what to do, consider reaching out to a psychic.

Fortune telling. Getting clarity on your future can help you change your reality, and there are over 150 fortune tellers on Kasamba to choose from.

Additional services. These include less sought-after yet still requested options, like palm readings, numerology, occultism, lost object reading and New Age spirituality.
Kasamba—legit or scam?
Is Kasamba legit? Yes. It has a strict recruitment policy that thoroughly checks all the applicants implying they have to complete several assessments before getting the opportunity to work for the platform. All the new psychics joining the site have to pay a $50 fee, which allows Kasamba to cooperate only with the professionals who have serious intentions but not with those who come for easy money. Is Kasamba a scam? Numerous users are wondering about the fair policies of the service since nobody wants to become a victim of the Kasamba scam. We tested and proved the authenticity and legal services of the platform, so you can be sure that you approach real psychics. Also, the customers can leverage a 100% satisfaction guarantee, which means you can request a refund if you didn't like your first reading. The customers can leave their reviews about the specialists, which significantly improves the overall experience and saves time.
Pros and cons
If you are still hesitating about whether it is worth choosing Kasamba as the main tool to get real psychic advice, feel free to look through this scheme. Analyze all the pros and cons to determine whether this website satisfies all your needs. 
Pros
An extensive database of specialists that cover different psychic types
Multiple options to contact real psychics on Kasamba
One of the most experienced and reputable contenders in the sphere
Mobile app isn't inferior to the desktop version in terms of features
Cons
Psychics decide on their own rates, and some of them ask for up to $20 per minute
Video chat isn't available
The free 3 minutes are available only one time for one advisor
It may be confusing to find the right advisor from the large catalog of specialists
How to find the right psychic for you
When selecting the best psychics on Kasamba, you have to understand what outcomes you expect and what issues you want to address. Each advisor specializes in a certain type of reading, so if you want to get high-quality results, So, we prepared a small cheat sheet for you to find a psychic who will match your requests and help achieve the desired goal:
Define your questions

Once you understand what you're looking for, it will be easier both for you and for the psychic to get the information you can leverage. Also, you'll choose a more effective reading type in this case because, for example, if you have issues concerning love and relationships, you'll go for a Tarot reading or clairvoyance. Meanwhile, financial questions might call for astrology or palm readings.

Take a look at Kasamba psychic reviews

Users usually share their feedback after having sessions with psychics to let others know what to expect and whether the selected specialist is as good as one might think. You can easily find all these reviews on advisors' profiles, so make sure to read some of them to understand if you want to get a reading from that professional. 

Look through the selected psychic's experience

Kasamba psychics often point out what techniques they know and the talents they have. So, you can take a look at the mentioned cases to see if this person will be able to deliver the reading that will resonate with you.  

Schedule a session

Once you feel like you stumbled upon the psychic who matches your expectations, opt for having a session with them to see if you feel comfortable and if this reader matches your vibe and expectations. In case you don't think this advisor is the one, don't hesitate to communicate with another professional.
Top 5 Kasamba Psychic Advisors
If you still have no idea which expert to approach on the site, this Kasamba psychics review will come especially in handy. We carefully analyzed the rating, testimonials, and expertise of specialists available on the site to handpick the best candidates. Read about the top 5 Kasamba psychic advisors to get a better insight into what to expect while using the services of the platform. 
Master Enigma
While having a high rating on Kasamba, Master Enigma specializes in spirituality. He has been guiding people for more than 3 years, providing accurate readings and useful advice. Master Enigma claims that he can explain the truth about any question on any subject. Whether the client has questions about love & relationships or career, the expert can get all the answers covered. The price for Master Enigma's services is $9.99 per minute. You can contact the expert by live chat, email, or phone. There are 58,639 reviews on the personal page of the master. Study them all to determine whether this Kasamba psychic advisor lives up to your expectations. 
---
Intuitive Counselor
Intuitive Counselor is an expert in tarot reading. The services of this psychic are sought-after among those who want to peek behind the curtain of love and relationships and recognize their significant others. The expert claims that she uses her God-given gifts of clairvoyance to deliver the answers to her clients. The price for a phone or chat conversation is $16.91 per minute. The email reading costs $50. There are 17,944 reviews on the personal page of Intuitive Counselor, and the majority of users give the expert 5 stars. 
---
Love Stefans Psychic Soul
The services of Love Stefans Psychic Soul will cater to the needs of those who seek the answers to complicated questions. The expert has 19,709 reviews on the site and his client says that he gives accurate and honest readings about love, career, and other essential life questions. Even though Love Stefans Psychic Soul doesn't provide psychic readings via email, you can still get in touch with an expert via chat or phone for $11.11 per minute.
---
Love Specialist Isabelle
Love Specialist Isabelle specializes in psychic readings and works with multiple life spheres. On her page, Isabelle notifies her users that she can deliver both good and bad news. Although her readings aren't always sweet, they are truthful and accurate. Based on 17,480 reviews, the majority of users claim that this expert gives insightful advice and is very pleasing to communicate with. Isabelle provides live readings only for $24.50 per minute.   
---
PsychicHermes
In his readings, PsychicHermes relies only on his intuitions and spiritual guides rather than props and tools. He believes that he uses a faster and more effective method to derive information from the universe compared to his contenders. The expert asks $25-35 for email sessions and $4.97/minute for chat and phone sessions. PsychicHermes has numerous satisfied clients and many of them are returning ones. 
---
Kasamba Pricing & Discounts
The most essential aspect to outline in this Kasamba review is the prices for the services. Kasamba has a moderate pricing policy. All experts available on the site deliver a decent value per money and the rate for their services vary depending on their experience, the niche they are engaged in, and the overall rating on the platform. Overall, you can expect to pay from $1.69 to $25.49 per minute for a chat or phone session with a specialist. 
Like any reputable website, Kasamba provides generous discounts. Thus, as a newcomer, you can make the most out of 3 free minutes with experts and 15% off the first session. This is an excellent opportunity to understand whether a certain psychic reader works for you and whether you want to continue to take a deep dive into spiritual practices. Also, the website offers multiple promotions for regular users. You can make the most out of frequent deals and coupons sent to your email. 
To use the services of Kasamba, you will need to specify your billing details. As soon as you use a 3-minute trial, you will be charged based on the fees of an expert. Some psychic advisors set different prices for different means of communication. Thus, the price for the psychic reading session via email can cost up to $100. 
Customer experience
Is Kasamba real? This question concerns numerous novice users who approach the services of specialists. Fortunately, nowadays, discovering the authenticity of the website and customer experience is a breeze due to users' testimonials. Aside from customers' reviews available on the site, you can read about its services on such platforms as TrustPilot. Suffice it to say, the website has a decent rating level (4.2/5) with numerous positive reviews about psychic readers. We carefully analyze all the real users' reviews to outline what users like and dislike about the platform. 
What do Kasamba psychic reviews from its users say about the site? Is it worth your attention, and are the services effective enough? Our team explored the site and tested out its services to see why this platform has such high ratings and is always mentioned on the lists of the best sites in the niche. We emphasized the points users mentioned and compared them with our opinions after using Kasamba.
According to TrustPilot, Kasamba has 4.2 stars based on 801 reviews, implying that most of its users are satisfied with the provided services and received the readings that helped them address their questions. Also, there's a psychics review system on the site that allows customers to share their feedback about the specialists. All these reviews are displayed on advisors' profiles and influence their overall ratings. Such a system makes it convenient to select a psychic because one understands right away what to expect from the specialist. 
🟢 Advantages of Kasamba according to users:
After analyzing several Kasamba psychic reviews, we can point out what users like the most about the site:
Every new user gets 3 first minutes for free
15% off the first session
Users often receive cost-effective deals and coupons by email
Wide range of spiritual advisors specializing in a number of topics
Kasamba mobile app is available both for iOS and Android
Reasonable prices, varying between $1.69 and $25.49 per minute
Blogposts on various topics for those who want to get the most out of their readings
⛔ Disadvantages of Kasamba according to users:
Customers also mention the aspects they wish were different on Kasamba, namely the following:
There might be a lower number of available psychics, depending on the time of the day
Users have to wait until they get coupons
Refund requests can only be submitted within 72 hours after the reading
Not many communication options
What users like 👍
Here are the main perks of the platform that users like:
Insightful advice from the best psychic readers
Multiple free features such as love forecast, love compatibility, and horoscopes
Satisfaction guarantee
Generous discounts and promotions
Ability to easily find and expert based on your purposes
Intuitive interface of the platform
An extensive database of experienced psychic readers 
Ranks and real users testimonials
What users dislike 👎
The users reviews show that they are disappointed with the following aspects. 
Some psychics aren't available via email
During the sessions, some experts need to check the information to give you the answer to your question 
Some clients say that a few psychics ask for too high rates 
It could be more free perks on the website
Different psychics may say different things
How to use Kasamba website?
What is Kasamba and how to use it? This is a widely-used question among novice users of the platform. Actually, there is no need to undergo a complicated registration process. You can achieve all answers to your questions in a matter of several clicks. This brief guide on how to use Kasamba reading services will help you to have a smoother and more effective experience while approaching professional psychic advisors. 
Sign up for the site to get access to all its features and perks. You will need to specify your email and password or use your Google/Apple account to get inside. Head over to the My Account section to track your activity, and view your advisors, communication preferences, and account details. 
Use the top menu bar to choose the type of psychic readings you want to get engaged in. From love readings to career forecasts — there is plenty of life sphere the psychic expert works with. 
Choose the most suitable psychic advisor by browsing the catalog or using the searching options. It is possible to adjust the search based on the price and rank of specialists. Learn the information on the personal pages of the experts to pick the one that suits you most.
Click the profile thumbnail of an expert to head over to their personal page. Therefore, you can read real customer reviews and learn more information about the techniques and approaches a certain master uses. Also, it is possible to discover the prices and contact methods. 
Verify your credit card to get the opportunity to talk to a psychic advisor for 3 minutes free of charge. All your billing operations are secured with 256-bit SSL encrypted payment. It is possible to link your Kasamba account with your credit card, PayPal, and Google Pay for fast and safe payments. 
You can continue the information after 3 minutes. You will be charged according to the prices specified in the profile of a particular expert. Mind that all the rates are specified per minute. 
Kasamba mobile app overview
Once you complete your Kasamba psychic sign up, you can also access your account via the site's mobile app. It's available both for iOS and Android and has a bunch of functions that make using it as convenient as the web version. It's easy to find a psychic when you're on the app because it has well-defined categories and a filter system, allowing you to quickly spot a professional who'll match your requests. 
Besides, the Kasamba app has a separate section in which you can read personal daily, weekly, and monthly horoscopes that will help you understand what to expect in the future. You can also chat with advisors via the app and get the needed advice that will help you make deliberate decisions.
FAQ
What is Kasamba?
Kasamba is one of the most experienced and reputable platforms dedicated to the different kinds of psychic readings. It incorporates a large database of experts who set the prices for their services by themselves. The structure of the platform emulates social media websites. You can visit the profile of a particular specialist, familiarize yourself with a pricing policy, and learn more about the props and techniques a psychic reader uses. Also, it is possible to read customer reviews to assess the skills of an expert. 
Is Kasamba secure & confidential?
Kasamba is a secure environment to achieve accurate and insightful psychic readings from the best specialists in this niche. All your sessions are strictly confidential, so you may not worry about anonymity and your personal safety. There is no need to identify your real name during the registration or psychic sessions. Kasamba values the security and confidentiality of clients and never discloses personal or billing information to psychic advisors or third parties. 
Does Kasamba have a refund policy?
The Kasamba website always puts customer satisfaction first. The team goes the extra mile to deliver top-tier and reliable services. If it happens that you aren't happy with your session, the site takes care of your satisfaction. Kasamba provides a satisfaction guarantee that implies up to a $50 refund. Nevertheless, the site reserves the right to return money partially or in full. To make the best use of the satisfaction guarantee, you will need to approach customer support within 7 days after your session and specify the date, psychic reader's name, and the total price of your session. 
How to find my trusted advisor on Kasamba psychics?
Suffice it to say, the Kasamba team checks the experts before uploading their profiles on the platform. The site values its reputation and strives to deliver the best services possible. All you need is to choose a psychic advisor that works for you. All you need is to browse the catalog of specialists, visit their profiles and read the details they specify about themselves and customer testimonials. Also, you can make the most out of 3 minutes for free. Ask specific questions to make sure the advisors know their job. 
Can a Kasamba psychic really tell me my future?
The best psychics on Kasamba are keen on a bunch of various reading techniques that help them deliver reliable and useful readings. You can select the type of reading depending on the questions you have. Although they won't exactly tell you the future, Kasamba psychics can describe the things you should be prepared for. You can easily get specialists at Kasamba in touch and ask them to tell you more about the reading techniques they use.
How do I get free minutes on Kasamba?
Once you create an account at Kasamba, you will be offered free minutes to try out the site's services and schedule a session with the selected psychic. In case you don't know how to use these minutes, you can easily contact customer service by using the Kasamba psychic phone number mentioned on the site.
Can Kasamba read my horoscope?
Sure! Kasamba psychics have a knack for reading and creating tailored horoscopes that help people understand how to use their skills to the fullest and make the right decisions that will lead them to the desired goals. You can also find these horoscopes in the site's app and see right away what the day holds for you when checking them out.
How can you connect with Kasamba advisors?
There's a "live chat" button on psychics' profiles, so you can click it to schedule a session with the professional. Also, you can connect with the psychic by clicking this button when looking through advisors' profiles, which are displayed as smaller icons. You can also easily request a Kasamba refund in case the reading doesn't match your expectations.
Are there any popular alternatives to Kasamba?
There are several popular options you can consider instead of Kasamba. These include Kee, California Psychics, and AskNow. These sites deliver high-quality services and have a lot of specialists with considerable experience in the niche.
Conclusion—Is Kasamba worth it?
After providing a thorough analysis of Kasamba services, it definitely feels that this platform is worth relying on. The site is available on the psychic reading scene for more than 20 years and has numerous possible reviews on reputable resources. Kasamba is aimed to deliver first-class services and proves its authenticity by providing a satisfaction guarantee. The greatest thing about the platform is that it allows every user to try its services free of charge. You can make the most out of 3 free minutes to test the psychics and choose the one that lives up to your expectations.
Kasamba Psychic Website Video Review
How Kasamba compares to other psychic reading sites
When analyzing the Kasamba psychic reviews, we also noted other platforms users often mentioned alongside. Since it's always a good option to have several alternatives, we've decided to compare other top psychic websites with Kasamba to see whether they're worth users' attention and what you can expect from them. 
Kasamba vs Keen
These are the two most widely used psychic sites with large user databases and trustworthy advisors. Kasamba offers 22 basic reading categories and has about 24 additional ones. The site hosts around 300 psychics who have a knack for delivering readings regarding love and relationships, fortune telling, astrology, and Tarot, to name a few. 
Meanwhile, Keen has approximately 1,700 psychics and offers reading in some of the most popular categories, including spirituality, life questions, financial issues, and different types of astrology. Also, the site has unique services, like Feng Shui, aura cleansing, and otherworld connections. 
Both sites have similar prices and offer attractive bonuses that allow users to save money while getting high-quality services. 
| Kasamba Prices 💲 | Keen Prices 💲 |
| --- | --- |
| $1.69–$25.49 per minute | $1.99–$30 per minute |
| Kasamba Services 🔮 | Keen Services 🔮 |
| --- | --- |
| Psychic | Tarot |
| Tarot | Astrology |
| Fortune telling | Spiritual readings |
| Dream analysis | Psychic mediums |
| Astrology | Chinese Astrologers |
| Palm readings | Mayan Astrology |
| Numerology | Vedic Astrology |
| Kasamba Special offers 🔥 | Keen Special offers 🔥 |
| --- | --- |
| 3 first minutes for free | first 3 minutes for free |
| 15% off the first session | $1.99 for first 10 minutes |
| | Refer-a-Friend program |
Kasamba vs California Psychics
Each site has a beneficial welcome offer that allows users to test out the available features before investing money into the platforms. Kasamba boasts a large selection of services, implying that whatever questions you have, you're likely to get all the answers at Kasamba. For example, you can get past life readings, leverage numerology, or give graphology a try to see how these readings can affect your life. The signup is quick and easy, and you get 3 first minutes for free once you add your payment method to the site. 
As for California Psychics, you can find there all the standard and popular readings, but it also offers unique reading topics, such as missing person psychics or past life psychics. The site divides its advisors into three categories, namely popular, preferred, and premium, with rates starting at $1, $2, and $4, respectively. Additionally, you can opt for purchasing a subscription package that includes 20 minutes and allows you to communicate with psychics with different experiences based on the price. 
| Kasamba Prices 💲 | California Psychics Prices 💲 |
| --- | --- |
| $1.69–$25.49 per minute | $4/minute–$10/minute |
| Kasamba Services 🔮 | California Psychics Services 🔮 |
| --- | --- |
| Psychic | Empath |
| Tarot | Medium |
| Fortune telling | Tarot |
| Dream analysis | Astrology |
| Astrology | Numerology |
| Palm readings | Crystals |
| Numerology | Oracle cards |
| Kasamba Special offers 🔥 | California Psychics Special offers 🔥 |
| --- | --- |
| 3 first minutes for free | discount for new members |
| 15% off the first session | first reading by phone for $1/minute |
| | Karma Rewards Program |
Kasamba vs AskNow
Both sites have many users and are among the most popular in the psychic readings niche. Kasamba is known for its wide range of services and types of readings, which makes it convenient for those who aren't quite sure about their preferred reading method and want to try out several available options. Also, it has specialists keen on unique approaches, such as Universal laws, Eastern philosophy, and past life readings. 
As for AskNow, it also has a large selection of reading types, including such rare ones as NLP, hypnosis, and Aura reading or healing. The readers are divided into categories based on their years of experience in the niche. Namely, there are top-, elite-, and master-level specialists, so you can opt for any professional depending on your budget and requests.
| Kasamba Prices 💲 | AskNow Prices 💲 |
| --- | --- |
| $1.69–$25.49 per minute | $5.99/minute–$13.99/minute |
| Kasamba Services 🔮 | AskNow Services 🔮 |
| --- | --- |
| Psychic | Spiritual Guides |
| Tarot | Dream Analysis |
| Fortune telling | Astrology |
| Dream analysis | Tarot |
| Astrology | Remote views |
| Palm readings | Chakra readings |
| Numerology | Energy readings |
| Kasamba Special offers 🔥 | AskNow Special offers 🔥 |
| --- | --- |
| 3 first minutes for free | introductory packages |
| 15% off the first session | plus 5 free Elite/Master minutes |